He also added that "we intend to receive about 20 applications to be the headquarters of the Spanish Space Agency."

In addition, Michael López-Alegría, has joined the reactions of the creation of the AEE: "Within the private sector, it is emerging and promising that Spain has a Space Agency"
Miguel Belló, Commissioner for the Aerospace PERTE, has been one of the protagonists in the opening day of SUTUS by Les Roches and has declared that "the objective is to choose the headquarters of the AEE at the end of November". He also stressed that they intend to receive, within a month, "more than 20 applications" and that the budget of the Spanish Space Agency "is intended to be about 500 million." The AEE intends to "be at the service of society and disseminate what is done in space."
Michael López Alegría has been the speaker of honor, through a connection from Monaco, of the third edition of SUTUS by Les Roches, which began this morning in Marbella. Michael López-Alegría is a decorated astronaut who returned to low Earth orbit for the fifth time in 2022 as commander of Axiom Mission 1, having accumulated 275 days in space. The first astronaut born in Spain to go into space has highlighted that "this event is very necessary and relevant to continue advancing in the space race".
López Alegría has given several recommendations to the ESA: "I think that Spain has been working and participating in the programs of the European Space Agency for a long time. The private sector is still very emerging in Spain and very promising. It is a great opportunity for PREPA to have a prominent place in this sector. You have to make sure that positive regulations are made. They must facilitate the conditions for companies to innovate. That has to be taken into account by PREPA".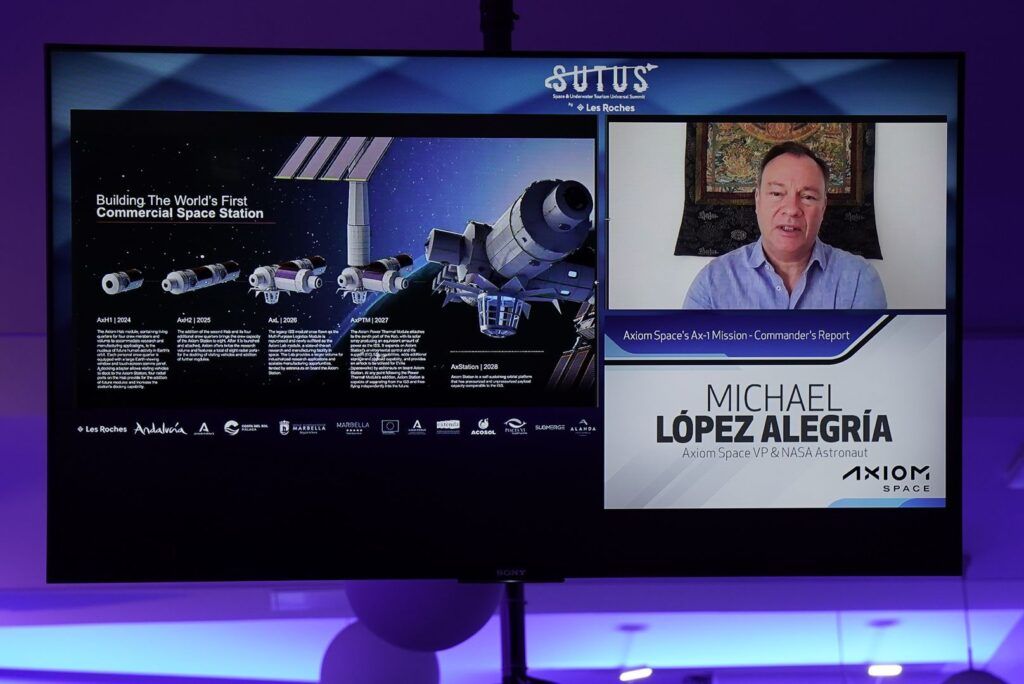 López-Alegría has launched an inspirational message for all the students in the world: "Follow your dream. Nothing is impossible, but it requires perseverance, hard work and, above all, heart. If you follow your heart and not what others say, success is guaranteed." He also commented that it is "a pride to carry the Spanish flag into space. I couldn't before because I was part of the American program."
He has also talked about his experience as commander of Axiom Mission 1, the first entirely private crew in the history of the International Space Station, and about the harsh training an astronaut undergoes: "That is the secret to going to space. In our training, it is basic that we are put in physical and psychological trouble to know how to react as a team when we are in space.
In addition, large institutions such as Euro Moon Mars, the International Space University and Swiss Space Tourism have joined the reactions to the creation of the ESA. Bernard Foing, from the European project Moon Mars, has declared that "Spain in space is already a reality"; Pascale Ehrenfreund, president of the ISU, has commented that "with the creation of the AEE, Spain is equal to other countries in its environment"; and, finally, Boris Otter, from Swiss Space Tourism, has advised that "ESA be accessible to the public and not be a closed entity":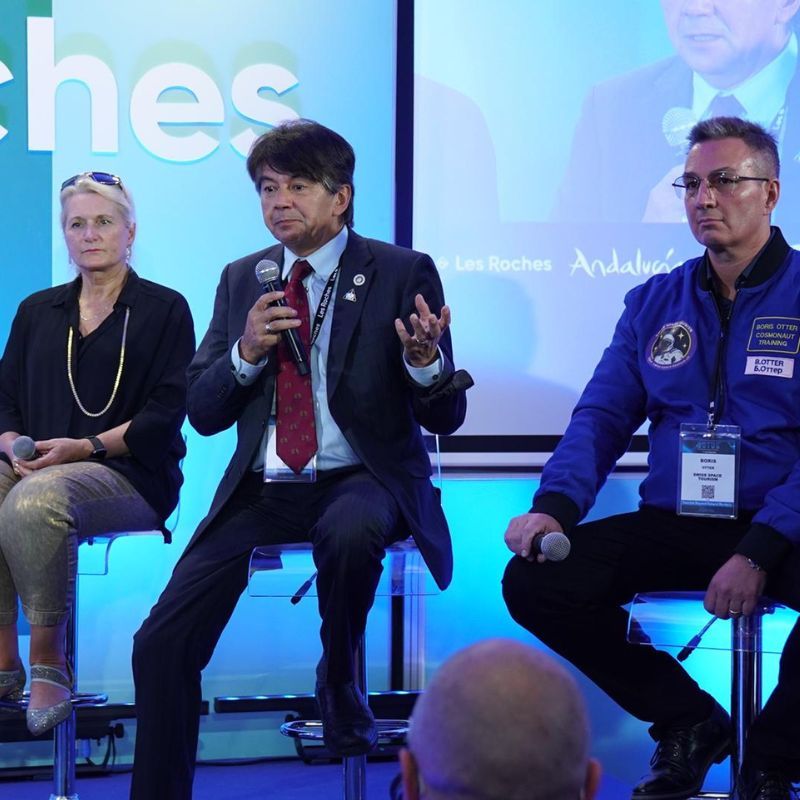 Also, the latest reactions on the process to choose the headquarters of the Spanish Space Agency, which was announced yesterday by the Minister of Science and Innovation, Diana Morant, by 5 of the candidate cities (Seville, Huelva, Teruel, Tres Cantos and the Canary Islands).
The mayor of Seville, Antonio Muñoz, has declared that "Sevilla presents a very solid candidacy due to its strong links to the aeronautical sector". Jesús Moreno, mayor of Tres Cantos, has assured that this municipality "houses 95% of the space business fabric". On the other hand, Maru Díaz, Minister of Science of the Government of Aragon, has stated that "The province of Teruel has Galactica, an Astrotourism center, the only one in Europe with these characteristics". For his part, José Luis García, president of the Canary Islands Aeronautical and Aerospace Cluster, commented that the strong points of the Canary Islands are "the favorable weather conditions, the two universities and the Canary Islands Astrophysicist, which is a world reference. Finally, Gabriel Cruz, Mayor of Huelva, stated that "talking about space in Spain is talking about Huelva because of its history in experimentation".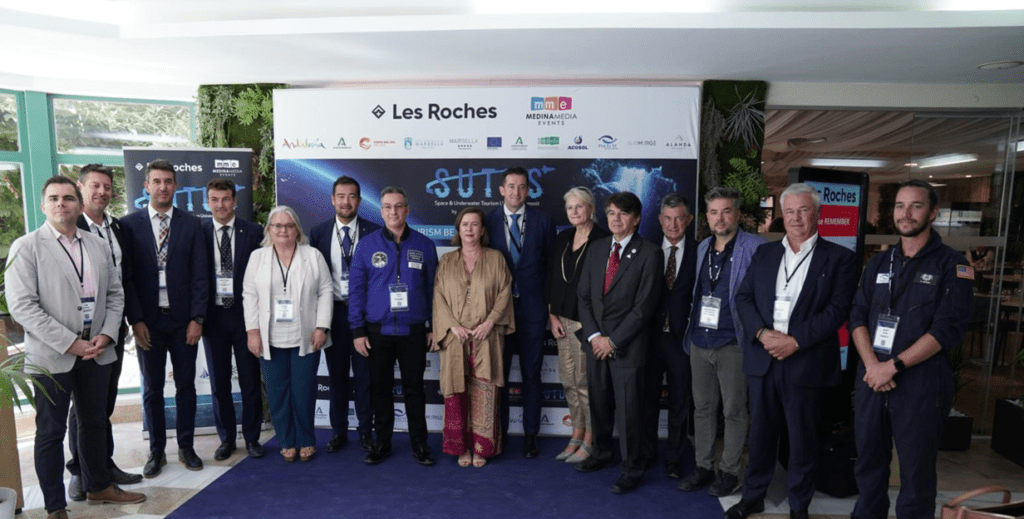 Yolanda de Aguilar, General Secretary for Tourism of the Junta de Andalucía inaugurates SUTUS 22
This opening day has been able to count on the presence of Yolanda de Aguilar, General Secretary for Tourism of the Junta de Andalucía; Renée Kachler, director of Tourism Business Development and Costa del Sol Planning; Cristóbal Garre, Deputy Mayor of the Marbella City Council, Carlos Díez de la Lastra, CEO of Les Roches, Ricardo Medina, CEO of Medina Media Events, Javier Hernández, Vice President of AEHCOS and Juan Antonio González, Director of the Heritage Administration area of ​​ACOSOL
Yolanda de Aguilar, General Secretary for Tourism of the Junta de Andalucía, has highlighted that "SUTUS is an unprecedented event, placing Marbella, once again, in the international spotlight. Professionals from the space and submarine tourism industry from all over the world are meeting here today to discuss the present and the future of new travel alternatives and experiences".
Carlos Díez de la Lastra, CEO of Les Roches, has assured that "this event is a dream come true for us and in its third edition we can already glimpse the magnitude that Sutus is reaching, where underwater and space tourism go hand in hand in Marbella, world reference city for tourism".
Space tourism, getting closer
From today until September 30, more than 50 speakers will participate in SUTUS, from 12 different countries on 4 continents, more than 30 companies from the space and underwater world or the most important space agencies worldwide. In the first part of the day, the protagonist has been space tourism.
Simon Jenner, AXIOM Space private astronaut recruiter, said that cities in space are getting closer every day: "Axiom Space is creating the future of humanity, starting with building a unique space station and sending private citizens to space".
Subsequently, Pascale Ehrenfreund, president of the International Space University, the only center specialized in space training, spoke about the importance of training future space leaders: "We are committed to training and educating future space leaders to create a sustainable development in space and on Earth".
Bernard Foing, leader of the European Moon Mars project, has recounted the latest advances on this titanic plan: "Our ultimate goal is to create the first permanent human settlement on the Moon and explore Mars."
Subsequently, Boris Otter, president of the Swiss space tourism association Swiss Space Tourism, answered the question about whether space tourism is a reality or a utopia: "Definitely yes. Thanks to space companies like Blue Origin, Virgin Galactic, SpaceX, Axiom and others, it is now possible to fly closer to the frontier of space. The new goals in the space race are to take the space tourist to the Moon."
With Tim Alatorre, co-founder and director of operations of Orbital Assembly, one of the high points of the event was experienced when he presented what is intended to be the first space hotel in space, which aims to be ready by 2027: "Space it is open for business and everyone can be a part of it."
The space world, on this opening day, has finished with several Spanish projects. José Mariano López-Urdiales, founder and CEO of Zero 2 Infinity, has presented the project of this Catalan company whose ultimate goal is to carry out sustainable tourist trips to the stratosphere through helium balloons and a pressurized cabin. On the other hand, José María Ortega-Hernández, Project Manager Green Moon Project, has presented his space agriculture project, whose ultimate goal is to "plant tomatoes on the Moon" and has declared that SUTUS "is like being in a fairy tale Tintin or Jules Verne. A dream come true where the underwater world and space meet".
Underwater projects that will change the world
Underwater tourism has also been the protagonist, on this opening day, with two projects that are going to change vacations in the oceans. Scott Waters, has presented Pisces VI, a deep-sea submarine (there are only 6 in the world) that offers tourist dives in the waters of the Canary Islands and is capable of submerging up to 2,180 meters deep with a normal duration of 8 hours: "We offer unique trips to the bottom of the sea. Tourists can discover new and unprecedented creatures and geological wonders from the most remote worlds of planet Earth on one of our trips."
On the other hand, Aaron Olivera presented EARTH 300, a futuristic superyacht whose main objective is to combat climate change by combining science, technology, adventure and education: "We have to be inclusive and fight for global warming and sustainability"
Networking and the exhibition area are also being protagonists of this face-to-face day. Visitors to this demonstration area can experience the weight of an astronaut suit, what it's like to be in space through augmented reality, or discover wines that age in cellars under the sea.
Además de esta primera jornada presencial, la tercera edición de SUTUS tendrá dos jornadas más virtuales, 29 y 30 de septiembre. Las tres jornadas pueden seguirse previo registro a través de la plataforma virtual de Medina Media Events, a través de la cual los asistentes podrán agendar video reuniones con otros participantes y ponentes, además de visitar exclusivas demos online.
SUTUS 22 es una oportunidad privilegiada para dar a conocer los éxitos de cada iniciativa, cada empresa, cada universidad, cada proyecto y cada ciudad, en un evento de referencia internacional y con un escaparate de primer nivel. Está impulsado por la Consejería de Turismo de la Junta de Andalucía, el Ayuntamiento de Marbella, Extenda, Turismo y Planificación de la Costa del Sol, Acosol, Pisces VI y SubMerge.