Sam Scimemi, NASA, on the Artemis II mission that will take off in November 2024 to send a woman to the moon, on the second day of SUTUS by Les Roches: "Safety is always our priority because of the hostile environments in which we operate. We learn from mistakes and move forward with caution."
"JAXA is committed to taking on the challenge of space exploration missions to expand human presence beyond our solar system and enable sustainable human activities in deep space," says Chiharu Hoshino of the Japanese space agency, JAXA.
Guillermo Söhnlein, Co-Founder & CEO of 'Humans 2 Venus': "Venus is closer to Earth than Mars and has a similar orbit, which means that travel to Venus is safer and more economical in terms of time and resources."
Marbella, September 27, 2023
The second day of SUTUS by Les Roches 2023, and the first virtual one, has made it clear that space tourism is at its sweetest and most promising moment. An affirmation supported by the numerous international experts who participated in today's session, with a large presence of women speakers.
The most important International Space Agencies have been represented, such as: NASA, with Sam Scimem; JAXA, with Chiharu Hoshino; ESA, with Lucía F. de la Bella; the National Space Agency of Bahrain (NSSA), with Ashraf Khater or the Colombian Space Agency (AEC) with Germán Puerta.
Also speakers of the stature of Pascale Ehrenfreund, from the International Space University; and international references of the space world such as Bernard Foing, from EuroMoonMars; John Spencer, from the Space Tourism Society; Boris Otter, from the Swiss Space Tourism Association; Christina Korp, from Space for a Better World; Irene Schneider, from Ihrenes Space Enterprises; Guillermo Söhnlein, from Humans 2 Venus; Guillermo Rojo, astronaut trainer; and Sara González de la Torre, from the University of Cadiz, were the protagonists of this second day of SUTUS by Les Roches.
Present and future of major international Space Agencies
Sam Scimemi, NASA's Special Assistant & Exploration Systems Development Mission Directorate, provided details on the upcoming launch of Artemis II in November 2024: "With the completion of Artemis I, we are on track to integrate and launch Artemis Two, which will be a manned mission to orbit the Moon. Integration of the vehicle has already begun at Kennedy Space Center, and we have selected the crew for the same."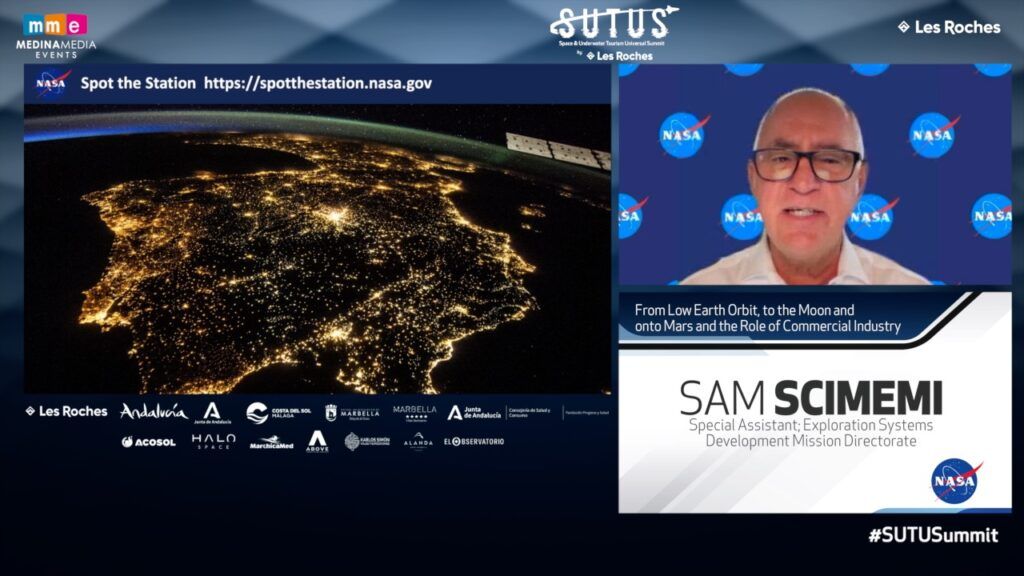 In addition, Sam Scimemi continues, "Right now we are investigating aboard the International Space Station how we can maintain food for our two- to three-year journey to Mars. Food starts to lose its nutritional value over time, such as when it spends a long time in your freezer or refrigerator."
European Space Agency (ESA) Ambassador to the United Kingdom Lucia F. de la Bella explained at SUTUS by Les Roches 2023 the ESA Space Solutions program, which funds new ideas in the space industry aimed at improving life on Earth.
"With 'ESA Space Solutions' we are creating exciting opportunities for entrepreneurs and companies to make a quantum leap in the use of space to improve our lives (…) The idea is to "bring entrepreneurs from any sector to ESA and thus open new business opportunities in an industry that is going a thousand per hour," says the Spanish scientist, based in Portsmouth.
On the other hand, Chiharu Hoshino, Director of the Paris Office of the Japanese Space Agency (JAXA), has given all the details of the technologies she is working on, such as the SLIM project, to ensure a precision landing for the Moon; or the development of a pressurized lunar rover called 'Lunar Cruiser' in collaboration with Toyota.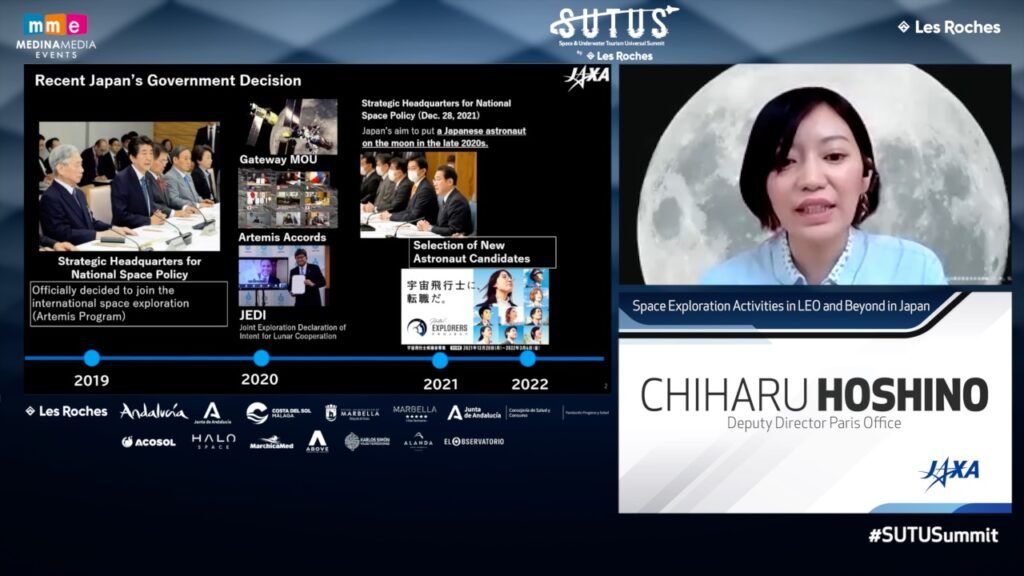 In addition, Hoshino explained that "for the future development of bases on the Moon, JAXA is conducting various joint studies with private companies in areas such as construction, fuel plant, agriculture and food".
The National Space Science Agency of Bahrain (NSSA) in the Persian Gulf has also participated in SUTUS. Ashraf Khater, Acting Chief, Ground Segment Maintenance & Technical Support for the NSSA, stressed that "the next step for the NSSA is to establish a sustainable national space infrastructure, including the construction of a larger ground station and the creation of specialized laboratories," Khater said.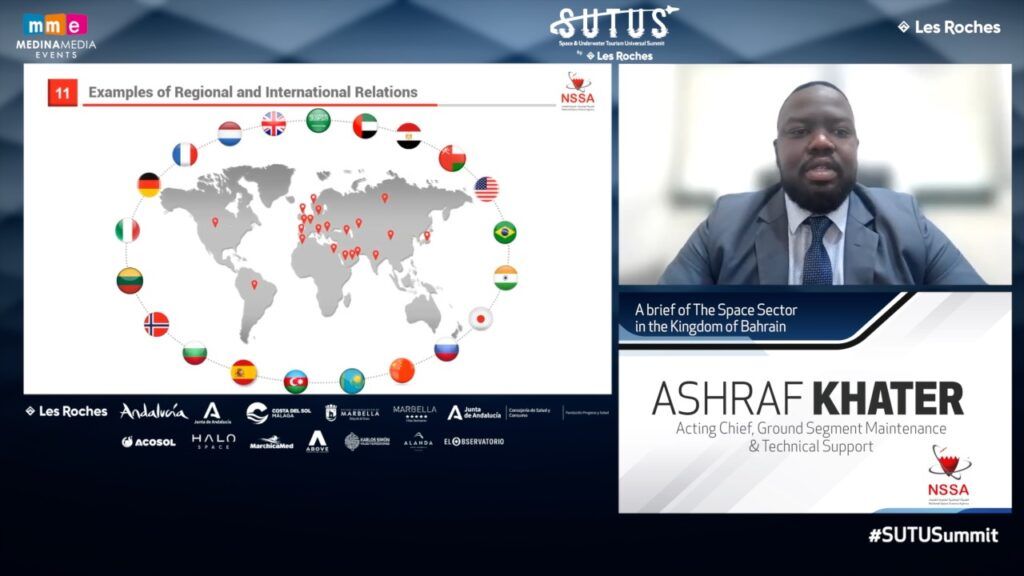 Another agency that is slowly beginning to make its mark is the Colombian Space Agency (AEC). Germán Puerta, Coordination of Scientific Culture and Education of the AEC, has commented that "the objective of the AEC is to promote scientific and aerospace culture in Colombian society".
Objective: to colonize the Moon, Mars… and Venus!
Guillermo Söhnlein, Co-Founder & CEO of Humans 2 Venus, has a vision of establishing a permanent human colony in the atmosphere of Venus by 2050: "Establishing a human presence in the atmosphere of Venus is a long-term goal that could take a century or more. But in the near term, we could build small floating stations in its atmosphere."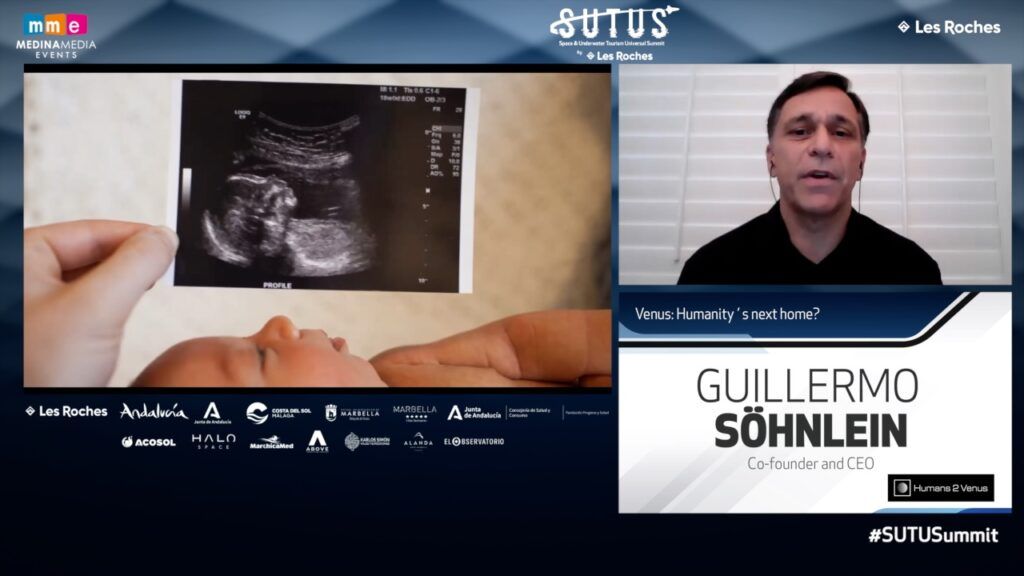 "Although Venus is inhospitable on its surface, at about 50-60 kilometers above its surface, we find conditions that resemble those on Earth, including gravity," says Söhnlein. He maintains that "gravity is the most critical problem to overcome when exploring other worlds. On the Moon we experience about 17% of Earth's gravity and about 38% on Mars".
For his part, Guillermo Rojo, athlete, Paralympic guide, researcher and astronaut fitness trainer, talks about the importance of leading a healthy life for traveling beyond our planet: "Physical training is crucial for space tourists because of the risks associated with space and to fully enjoy the experience".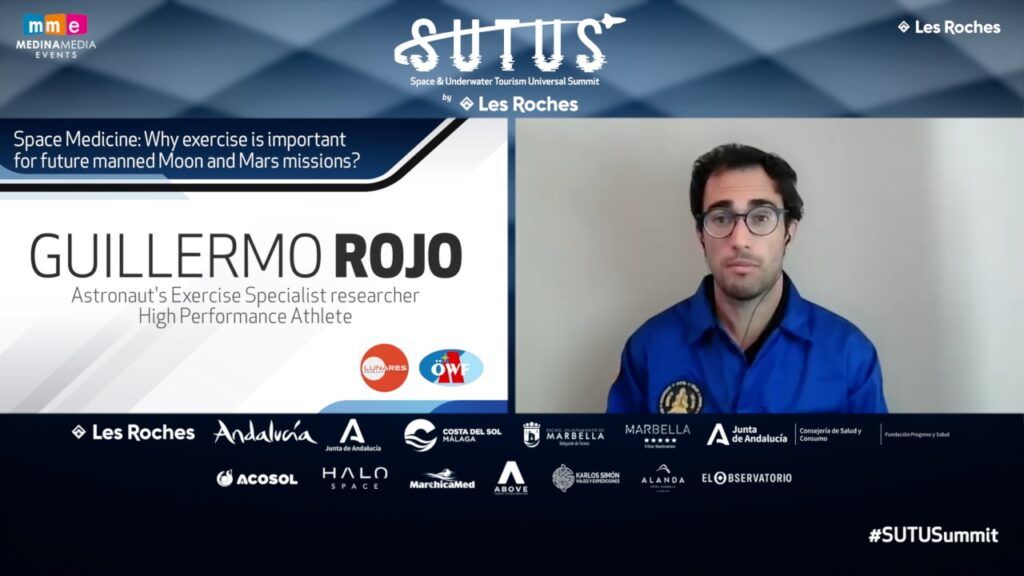 Rojo is currently working on a strength assessment training device called 'Max Ford' for long-duration flights, which would help quantify strength losses or gains on the International Space Station and reduce the amount of exercise required for astronauts.
Bernard Foing, leader of the International Lunar Exploration Working Group (ILEWG), has shared essential information about EuroMoonMars, an initiative involving research efforts toward colonization of the Moon and, eventually, colonization of Mars: "We want to show the benefits of space for people here on Earth."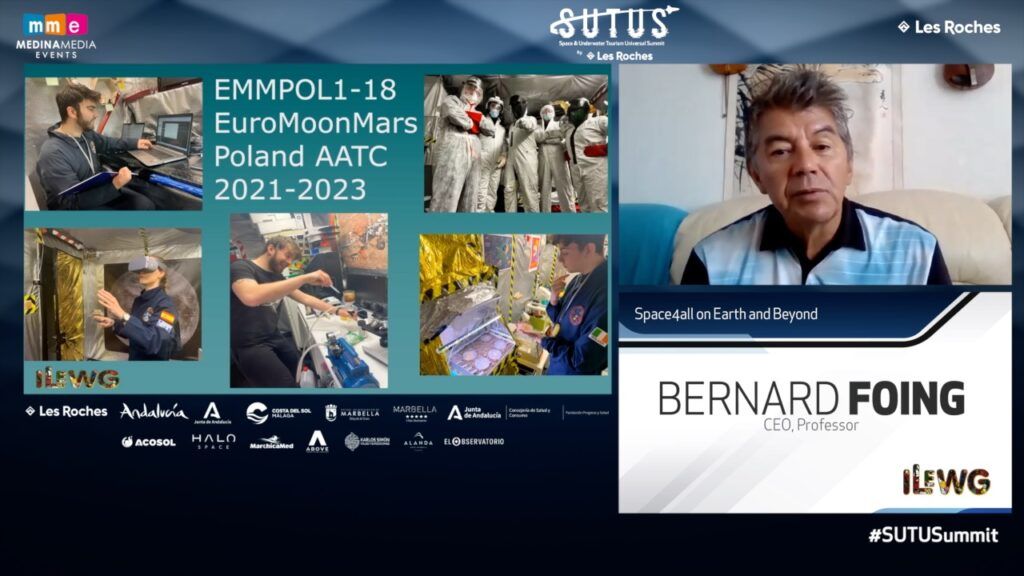 Maximum safety for space tourists
Irene Schneider, founder of Ihrenes Space Entreprises (ISE), has focused on the current challenges of science to combat radiation in space travel.
"The most important thing about all these missions is that our astronauts and space tourists come back happy and tell us about the wonderful story and adventure they just participated in," Schneider says.
Irene Schneider is clear and concise: "I would like to say that often in the media they treat the topic of radiation as if it were just one. Just one thing. And in fact, it is very far from the truth, because radiation encompasses a very wide field of different types of radiation."
Sara González de la Torre, Associate Professor at the Neurotech Laboratory of Neuropsychology and Experimental Psychology at the University of Cadiz, has focused on clinical neuropsychology and human factors in aerospace. This Andalusian laboratory collaborates with renowned space agencies, such as the European Space Agency (ESA), NASA and Roscosmos (the Russian space agency). "We study how people adapt and interact in extreme environments and simulations that prepare humans to return to the moon, Mars and beyond."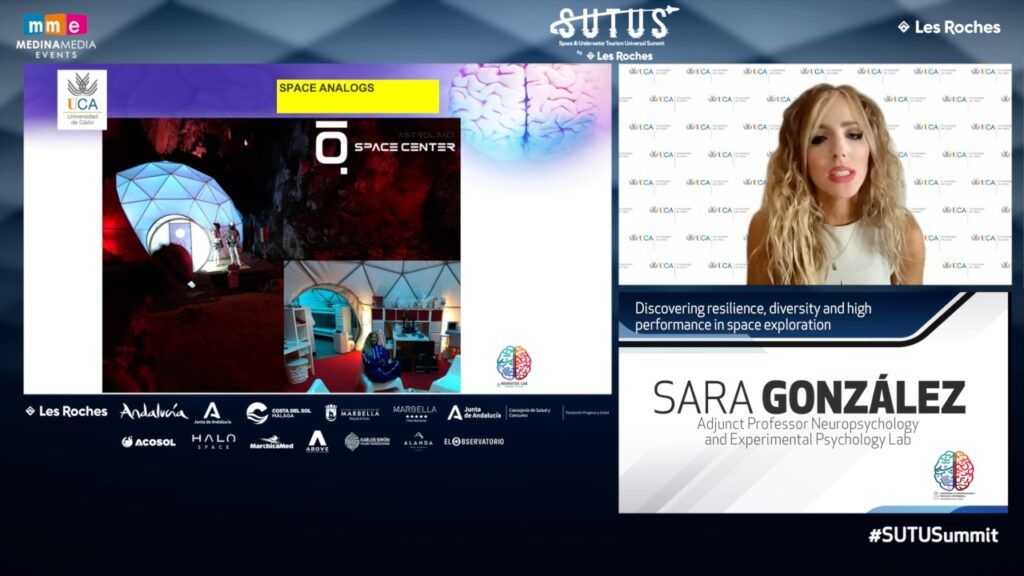 De la Torre maintains that "the evaluation of social factors is increasingly relevant in human spaceflight. Human beings are social beings and, therefore, social relationships are very important, even in astronaut teams."
"One of the main challenges is radiation. We can work on other problems, such as clinical psychology, cognitive training, isolation and distance from the family, but the most important thing in long duration missions will be how to overcome radiation and have a system that can detect possible deficits and problems," says this outstanding researcher.
The world space economy in 2022 will move 546 billion dollars.
Pascale Ehrenfreund, president of the International Space University, and one of the few humans to have an asteroid named after her, says that "the space industry will need quite a lot of highly skilled labor by 2030. And not just engineers.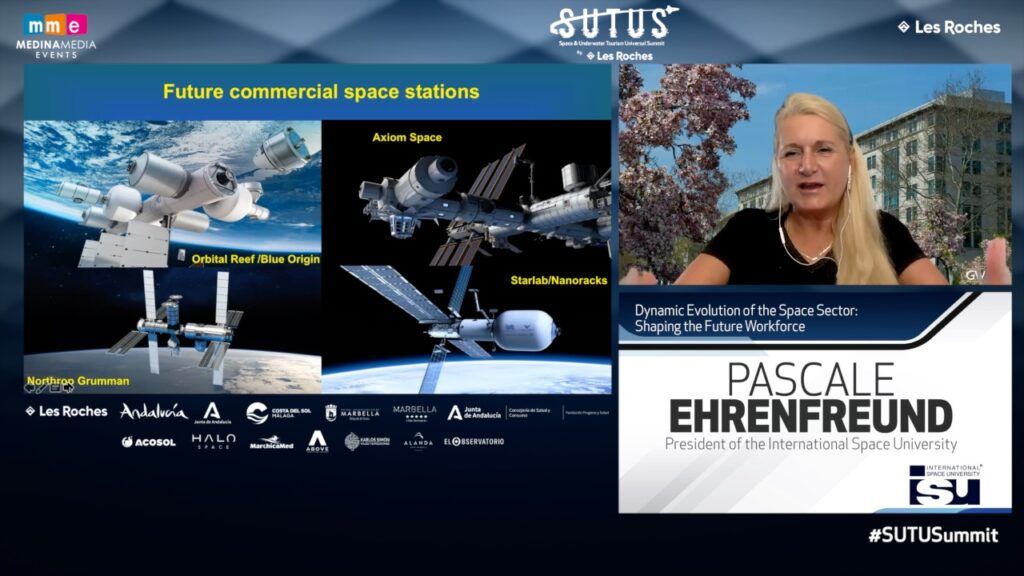 Pascale explains that in 2022 the space economy was worth $546 billion. This means that there are plenty of job opportunities available for the younger generation in this sector: "Almost $300 billion went into commercial space products and services, and more than $140 billion into commercial infrastructure. The value of U.S. government and non-government space programs, along with other government programs around the world would add up to the rest."
John Spencer, founder of the Space Tourism Society in Los Angeles (USA), has also redefined the concept of spacecraft in SUTUS 2023: he has turned it into a sleek cosmic superyacht called 'Destiny'. His vision includes a luxurious, billion-dollar vessel that will cruise the Earth's orbit, providing its passengers with spectacular views of our planet.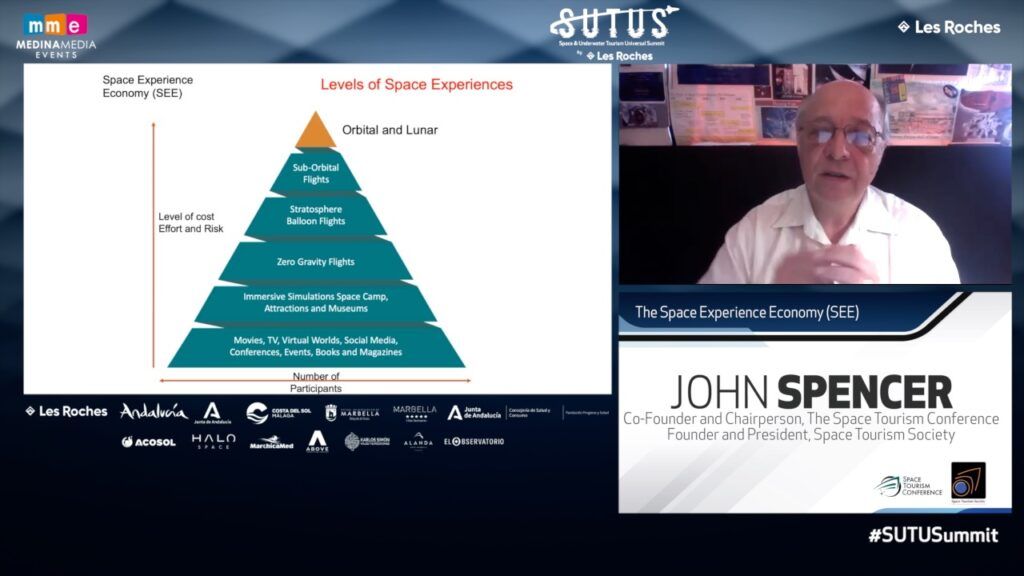 "Safety is crucial in the space industry, and people are willing to train and take risks to have a transformative experience," Spencer says.
Boris Otter, President and Founder of Swiss Space Tourism, and trained as a cosmonaut in Russia, has launched the SST-6 (Swiss Space Tourism-6) space mission, which will take him and 5 other crew members to cross the Kárman line, located at an altitude of 100 kilometers. "I grew up wanting to be an astronaut, I am not a millionaire, but I have fought for it (…) The goal of my mission is to be part of a scientific, medical and fictional program, which aims to encourage children around the world to pay more attention to space and the sciences related to it."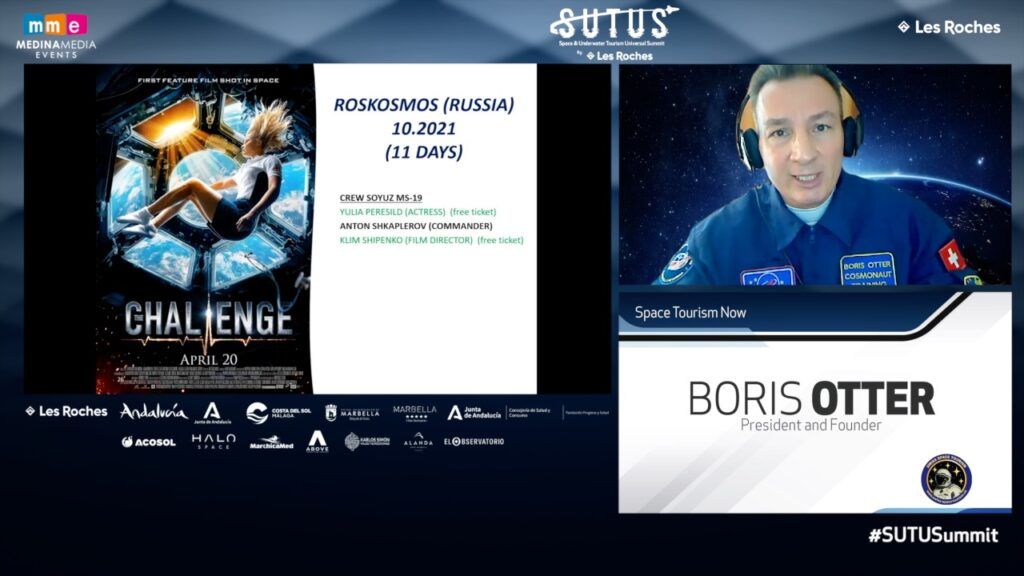 The world's most famous astronaut 'secretary'
Christina Korp, CEO and Founder of Space for a Better World, leads this global organization dedicated to creating space programs and projects with the intent to inspire, educate and raise awareness about the utility of space for the well-being of humanity.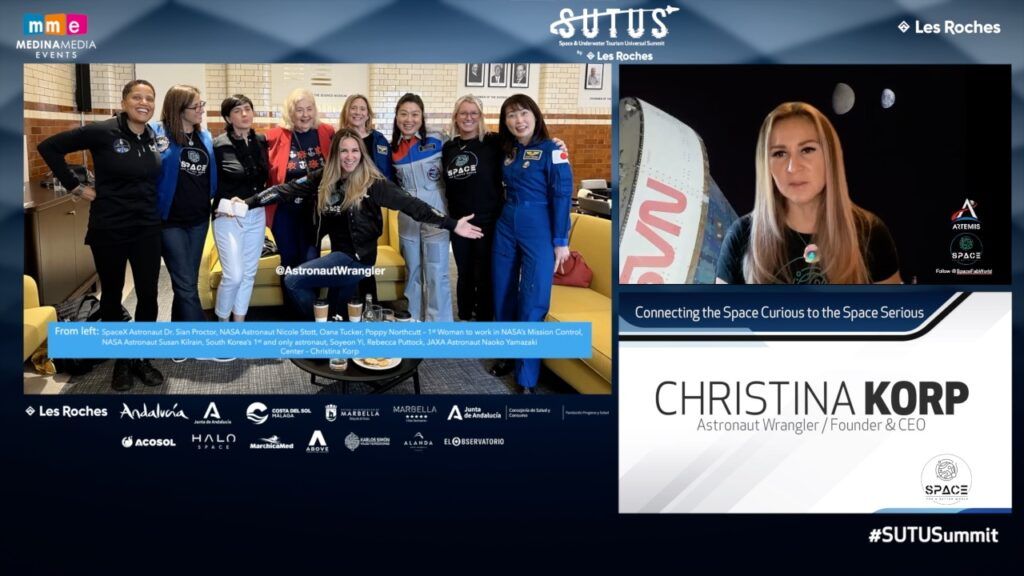 "I didn't really understand the impact of this until I met Stephen Hawking. That's when I really understood the importance of this world and how I could use my experience to bring more people into space," Korp explains.
SUTUS 2023 by Les Roches
All SUTUS by Les Roches conferences can be followed through its virtual platform, powered by 'The Observatory' of Medina Media Events. Attendees will be able to schedule video meetings with other participants and speakers, as well as visit exclusive online demos.
SUTUS 2023 by Les Roches, under the slogan "Beyond natural borders", is supported by the Ministry of Tourism of the Andalusian Government, Tourism and Planning of the Costa del Sol, Marbella Town Hall, Progress and Health Foundation of the Department of Health and Consumer Affairs of the Andalusian Regional Government., HALO Space, Marchica Med, ABOVE SPACE, Karlos Simón Viajes y Expediciones and Hotel 5* Alanda Marbella. 
As a subscriber, you will get a 20% discount. Enter the code SUTUS23 and click on Validate in the registration form.