The adventurer Karlos Simón will tell at SUTUS 23 by Les Roches how to experience individual and exclusive dives with him in some of the 17 shark sanctuaries that exist in the world.
These "face-to-face" trips with sharks will cost between 80,000 and 100,000 euros, "depending on the destination and the boat used".
The Universal Summit of Space and Underwater Tourism (SUTUS) celebrates its 4th edition from 26th to 28th September in Marbella and this year incorporates extreme diving among sharks with Karlos Simón.
Marbella, 18th july 2023.
Just a few weeks before the fourth edition of SUTUS by Les Roches, the international summit of space and underwater tourism, new speakers have been confirmed to take place in Marbella from 26th to 28th September.
One of the most exciting and exclusive experiences in luxury underwater tourism is extreme diving among sharks in the Bahamas, one of the 17 sanctuaries that already exist worldwide.
Karlos Simón, CEO of his own travel agency and international expeditions, will participate in SUTUS and will reveal all the details of his exclusive travel proposal, which moves away from conventional luxury tourism: diving among 5-metre sharks in paradisiacal places… completely alone. 
Extreme shark experiences around the world
 "My travel agency specialises in adventure travel, especially diving experiences with sharks. We are different because we go to exotic destinations that are little exploited by human beings".
The adventurer Karlos Simón, will talk about the exclusive and star trips that are carried out in his agency, always with him as a companion and instructor: dives to dive in an extreme way with 5-metre long tiger sharks in a place as exclusive as the Bahamas, feeling like a shark expert and learning everything you need to know to even feed them with your own hands.  Karlos will show you the experience of this kind of "face to face" trips outside of any "ship", outside of any cage, without other divers nearby, just you and him.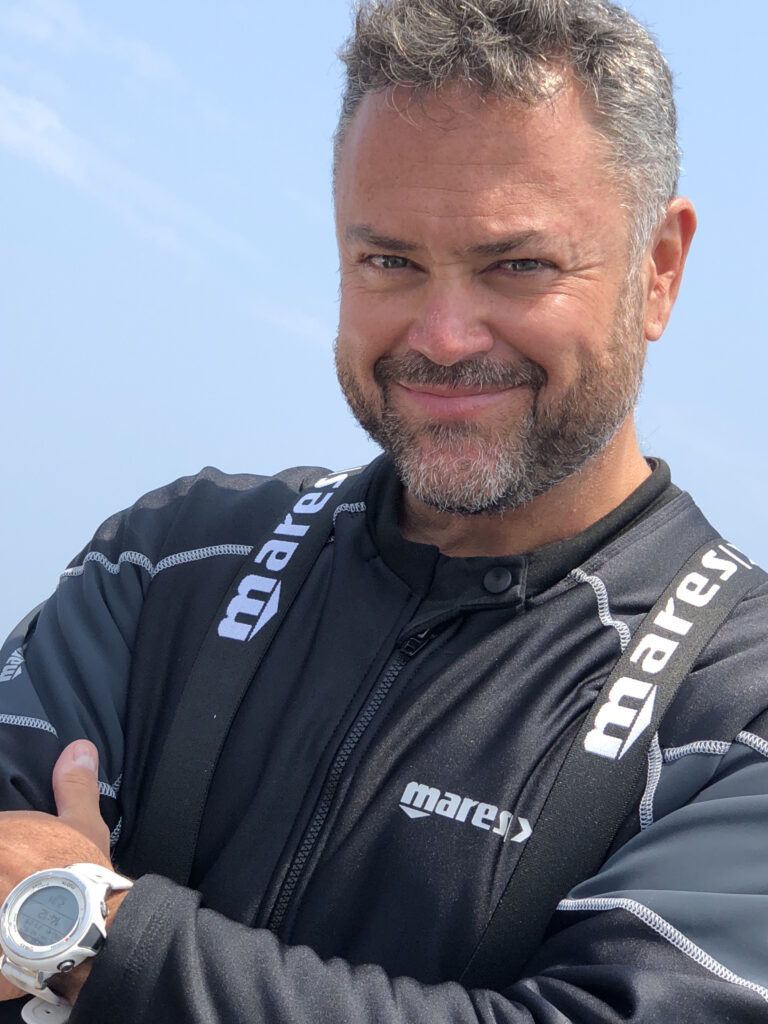 "I can take you on the best adventure you could ever dream of in your life, face to face with the ocean's biggest predators". Simon plans to reveal all the details of this new type of expedition at this fourth edition of SUTUS by Les Roches. These tailor-made "face to face" trips are scheduled to be launched in 2024. On these trips, Karlos will offer all his experience so that the client receives all the necessary training to dive with sharks. This experience will cost a minimum of between 80,000 and 100,000 euros depending on the destination chosen and the boat used.
Its 35 years of experience diving with sharks and its more than 250 trips and expeditions all over the world are a seal of guarantee and safety for its current clients.
 The rise of shark tourism
 The experiences that Karlos shares with his followers are generating a lot of interest and expectation, and the attraction for the underwater world has grown a lot in recent years, being able to live adventures that would have been unthinkable some time ago: observing the remains of famous sunken ships, expeditions under the waves in the polar regions of the Antarctic or 'captaining' our own submarine are some of the underwater trends.

Since 2009, in view of the problem of shark poaching – for the famous shark fin soup – shark sanctuaries have been created all over the world for their protection.
 There are already 17 shark sanctuaries in different seas and oceans. The first of these was established in Palau (Micronesia) in 2009, Maldives (2010), Marshall Islands, Honduras and Bahamas (2011), Cook Islands and Polynesia (2012), New Caledonia (2013), British Virgin Islands (2014), Federated States of Micronesia, Cayman Islands, Bonaire, Saba and Kiribati (2015), San Marteen (2016), Dominican Republic (2017) and Samoa (2018).
Creating shark sanctuaries represents a challenge and is undoubtedly a great strategy for their protection. Parallel to this and as one of its consequences, a boom in diving trips to see these animals has been generated, which economically is being a benefit, not only for the environment but also for the economy of the areas: "it is estimated that a live shark generates 220,000 dollars during its lifetime, while the sale of a dead shark is 300 dollars", says Simón.
Once again, underwater tourism will play a key role at SUTUS by Les Roches, which since its first edition has featured top speakers such as Aaron Olivera, founder of EARTH 300, who showed his luxury 'superyacht' that combats climate change; Fabien Cousteau, who presented PROTEUS, the so-called International Ocean Space Station and Jason deCaires, creator of the world's first underwater museum, whose work helps to recover coral reefs to preserve marine life, among others.
Over the next three months, the organisers will be announcing the new features of SUTUS 2023 (www.sutusummit.com) until the event's agenda is complete, under the theme "Beyond Natural Boundaries". All SUTUS by Les Roches conferences can be followed throughout the year via 'The Observatory', a digital platform launched by Medina Media Events.