Pisces VI, Scott Waters' company, shifted its base of operations to the Canary Islands last year
Offering scientific and touristic experiences, this company can make a big impact due to the importance of the volcano eruption on La Palma
The story of adventurer Scott Waters may have changed, for the better, with the eruption of the volcano on the island of La Palma. As a young boy in his Kansas high school, he designed flying ships and submersibles that were going to change the world. But not even in his most futuristic dreams could he have imagined that the eruption of a volcano would bring him such an unexpected stroke of luck.
Scott Waters, in the midst of the pandemic and at a risky economic moment for everyone, gave his scientific and tourist submarine company, "Pisces VI", a change of direction and decided to move his team and operational base from Florida to the Canary Islands.
Waters (which interestingly means "waters") began his passion for engineering, exploration and entrepreneurship at a very young age. In 2008 he began building his first submarine: "KW-350 Trustworthy". Scott's business grew quickly, he merged with another company and soon became CEO, with $25 million in sales and 250 employees.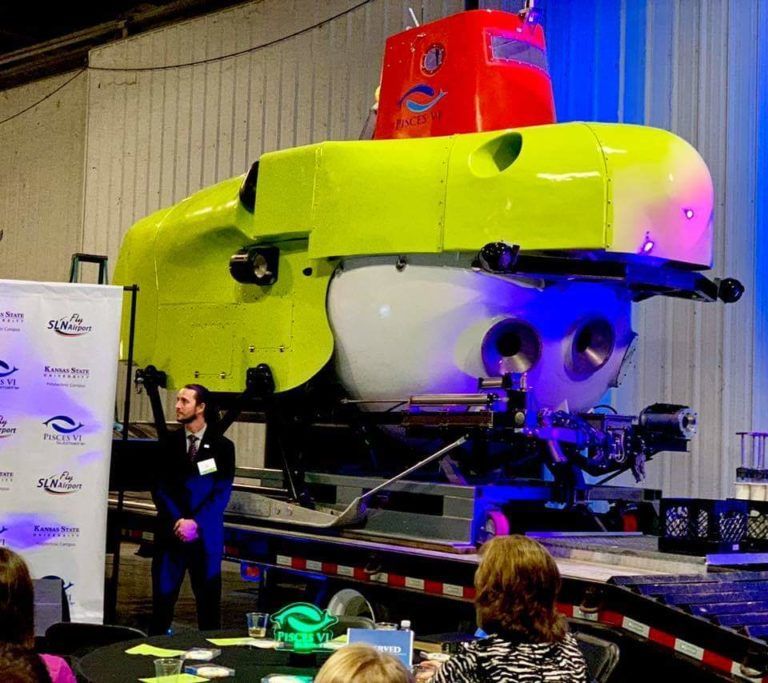 After completing his first submarine, Scott decided to continue his career by specializing in human occupied vehicles "in challenging environments." In 2015 he purchased the Deep Sea Submarine Pisces VI, and in 2016 he assembled a crew of experts to convert it into a state-of-the-art scientific vehicle.
His submarine just fits in a cargo container, so it was very easy for him to transport it from one port to another around the world, by ship, truck or plane, without needing to have a gigantic autonomy of its own. The small submarine is ready to go down with an expert pilot and three passengers to a depth of about 2,000 meters for about three hours, in exchange for 1,500 euros.
Scott presented his project for the first time in Spain two years ago, at the first edition of SUTUS, the Summit on space and underwater tourism organized by Les Roches Marbella and Medina Media Events under the slogan "Tourism beyond Natural Boundaries".
And just two years later, tomorrow, Wednesday, September 22, also coinciding with the September full moon and the autumnal equinox, Scott was about to confirm at the second edition of SUTUS the details of his move from the United States to Spain. But the eruption of the volcano on La Palma changed the script of his lecture.
After his first presence at SUTUS, Waters decided to establish his base of operations in Tenerife to, in collaboration with the Spanish Institute of Oceanography (IEO), study the seabed of the Canary Islands, both the underwater volcanic areas and the species that are not very accessible, such as the giant squid that supposedly inhabit these Atlantic waters, in the vicinity of La Gomera. Scott's goal is to increase human knowledge about space and the ocean, reducing costs to make it more accessible.
Scott Waters will be present at the inauguration of SUTUS 2021 for the media and the few exclusive attendees invited to the event in person, although virtually he has already registered attendees from 40 countries from 5 continents.
Space agencies such as the American NASA, the European ESA, the Japanese JAXA or the Chinese COSE are also participating in SUTUS 2021 to present their progress in the new era of space tourism.
The second edition of SUTUS will have a hybrid format, with a first on-site session on September 22 at the Les Roches Marbella campus, and two more virtual sessions on September 23 and 24. The three days can be followed after registration through the virtual platform of Medina Media Events, through which attendees can schedule video meetings with other participants and speakers, as well as visit exclusive online demos.
SUTUS 2021 is supported by the Andalusian Tourism Council, Costa del Sol Tourism and Planning, Council of Marbella, Extenda, Acosol, Triton Submarines and Pisces VI.
The agenda for the three days is already available on the official website of SUTUS.
To register, please visit this link.
If you're Press, ask for your pass to maria@medinamedia.net and access our Media Room for stunning videos and photos.