This is the only event that addresses this issue. It will have more than 50 leaders from Europe, America, Asia, Africa, and Oceania.

Organizations such as NASA, the European Space Agency (ESA), the Spanish Space Agency or JAXA,  have already confirmed their attendance.
Organized by Les Roches, one of the four leading specialized hotel training schools in the world, SUTUS by Les Roches revalidates the academic institution's ability to be an asset for innovation and talent within the tourism sector.
The celebration in the two campuses of Les Roches, in Spain and Switzerland, brings to SUTUS (Space & Underwater Tourism Universal Summit) a new international dimension, and the involvement of new companies and leaders.
Marbella/ Crans-Montana, May 3, 2023. On September 26, 27 and 28, coinciding with the autumn equinox, the Les Roches headquarters in Spain and Switzerland will become the epicenter of the most avant-garde tourism. The future, space and the underwater universe will join hands at the Space & Underwater Tourism Universal Summit (SUTUS), the world's most prominent space and underwater tourism event, and the only one of its kind.
The meeting, organized by Les Roches, a school specializing in hotel training and luxury tourism, and Medina Media Events, will bring together, in its fourth edition, more than 50 speakers from Europe, America, Asia, Africa, and Oceania.
Under the title "Beyond Borders", SUTUS by Les Roches will explore new territories to approach emerging business models in luxury tourism. An opportunity for a sector in constant growth, capable of mobilizing millions of travelers, renewing companies from within and promoting the innovative efforts of agents and companies involved.
In fact, a 2019 report by the Swiss financial company UBS estimates that commercial flights into outer space could become a $23 billion industry by 2030. A trend that also extends to the underwater field, which has experienced significant growth in the last decades due to the search for transformative and unforgettable trips. Currently, tourism represents 40% of the blue economy, the largest share in the value of exports, according to the United Nations Conference on Trade and Development (UNCTAD).
"Since 2001, you have the possibility of going to the International Space Station as an individual tourist. Space and underwater tourism were already a reality in 2019 when SUTUS was born, but there was no discussion forum that would address these issues in depth. Nowhere in the world" assures Carlos Díez de la Lastra, CEO of Les Roches.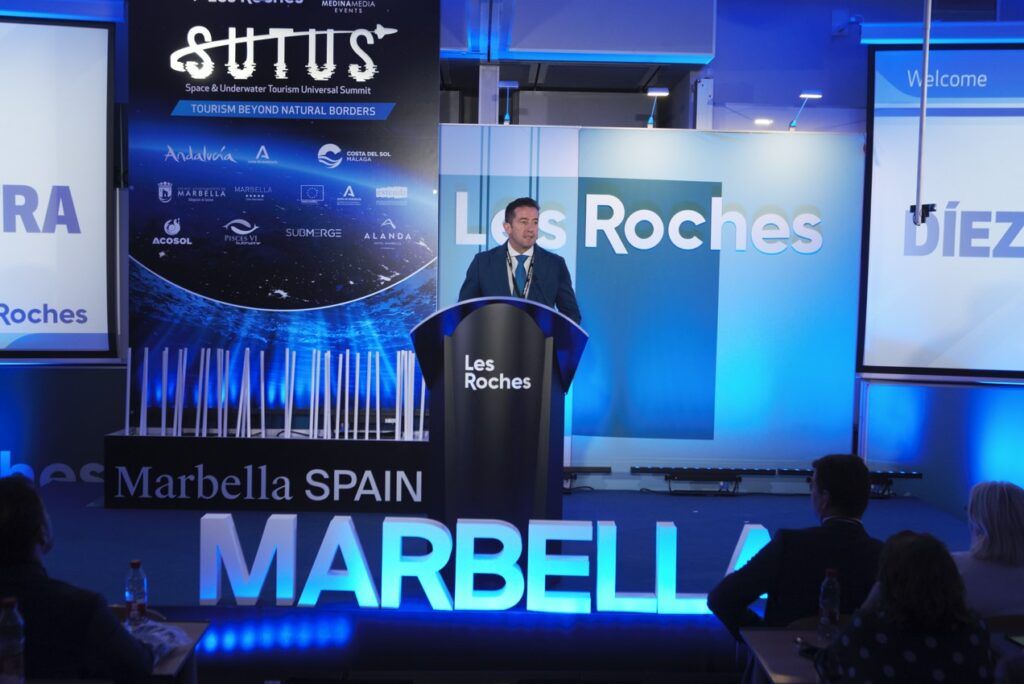 Hybrid program and offices in Spain and Switzerland
In a hybrid format, and with two face-to-face sessions, in Marbella (Spain), on the 26th, and in Crans-Montana (Switzerland), on the 28th, the SUTUS by Les Roches program will be structured around specific panels of experts in subjects such as the role of the commercial industry, types of flights into space, the profile of the traveler, new territories in the ocean, cultural heritage under water or sustainability.
SUTUS by Les Roches was born in 2019 with the vocation of being a benchmark for experiential tourism, reinforcing the role of our country as a world tourism power, and the value of an institution like Les Roches, the fourth most important hotel training school in the world, where its students develop multiculturalism, leadership and entrepreneurship skills. 2023 marks the beginning of a new stage for SUTUS by Les Roches, which extends its days to Switzerland, to achieve a new international dimension.
"At Les Roches we work to train those who will be the leaders of tourism in a decade or two, so we strive to create events and establish synergies with the experts and entrepreneurs who are already shaping that future. SUTUS by Les Roches is a reflection of this commitment. The space and underwater tourism industry, which is still being outlined, needs to be supported by professionals who can add value. Expanding SUTUS to the Crans-Montana campus in Switzerland will allow us to connect with a new entrepreneurial ecosystem, expand the networking network, and reach more participants. It is a magnificent opportunity for everyone and a source of pride for those of us who dreamed of building an event like this 10 years ago", comments Carlos Díez de la Lastra, CEO of Les Roches.
Mano Soler, director of the Les Roches campus in Marbella, reaffirms the value of SUTUS: "Marbella is a city that sums up everything that Les Roches is, internationality, dynamism, luxury, and excellence, and it is here where we will have the opening day, because our goal is for SUTUS to also contribute to strengthening the Costa del Sol brand. On that day, the representatives of the most important space agencies in the world and the leaders of the projects that will set the course for tourism in a few years will have their eyes on here, in Marbella."
Over the next few months, the organizers will announce the news of SUTUS 2023 (www.sutusummit.com) until the event's agenda is complete.
About Les Roches
Les Roches is a Swiss institution focused on creating the innovative and entrepreneurial minds of tomorrow. Founded in 1954, Les Roches offers undergraduate and postgraduate degrees in Hospitality and Tourism Management following the Swiss educational model. With campuses in Switzerland and Spain, and a student body of more than 100 different nationalities, the institution offers its students a unique experience based on cultural diversity. Since 2021, Les Roches also has an academic alliance with the Indian School of Hospitality (ISH) with a partner campus in Gurugram (Delhi NCR).
Les Roches is among the world's top 4 institutions for higher education in hospitality industry management (QS World University Rankings, 2023). Part of Sommet Education, a world leader in hospitality education, Les Roches is accredited by the New England Commission on Higher Education (NECHE).
For more information, visit Les Roches.