The objective of the space company Orbital Assembly is to manage a space industrial park that has offices and accommodation for tourists.
Tim Alatorre, COO of Orbital Assembly, will explain this project at SUTUS 2022 by Les Roches.
Is it possible to wake up in a luxury hotel and look out the window and see the solar system? That is the goal of the American space company Orbital Assembly. In 2025, in just over three years, the world's first gravity-enabled space business park, complete with office space and luxury tourist accommodation, is scheduled to  become a reality.
Orbital Assembly, which leads this titanic project, is working to make space tourism available not only to dozens of people, but to thousands over the next decade.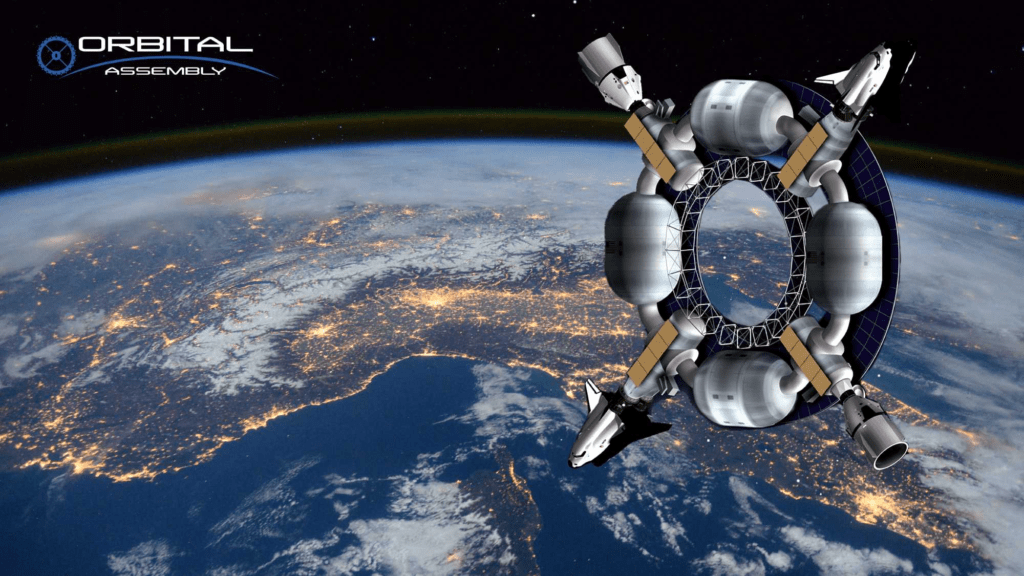 The plan of Orbital Assembly Corporation
The plan of Orbital Assembly, a space construction company based in the United States, is to launch two space stations with accommodation for tourists: the first as early as 2025 and the second scheduled for 2027.
The Pioneer station, which will be operational in just over three years, will have the capacity to hold up to 28 people. On the other hand, the Voyager station, with its first components planned to launch within 5 years, will be able to accommodate up to 400 people once it is finished.
Images of the interiors of both stations suggest an interior design similar to that of a luxury hotel on Earth, but with out-of-this-world views. The primary purpose of these stations will primarily be as a place of work, manufacturing and research, and Orbital Assembly's space hotel will serve as a key space tourism destination.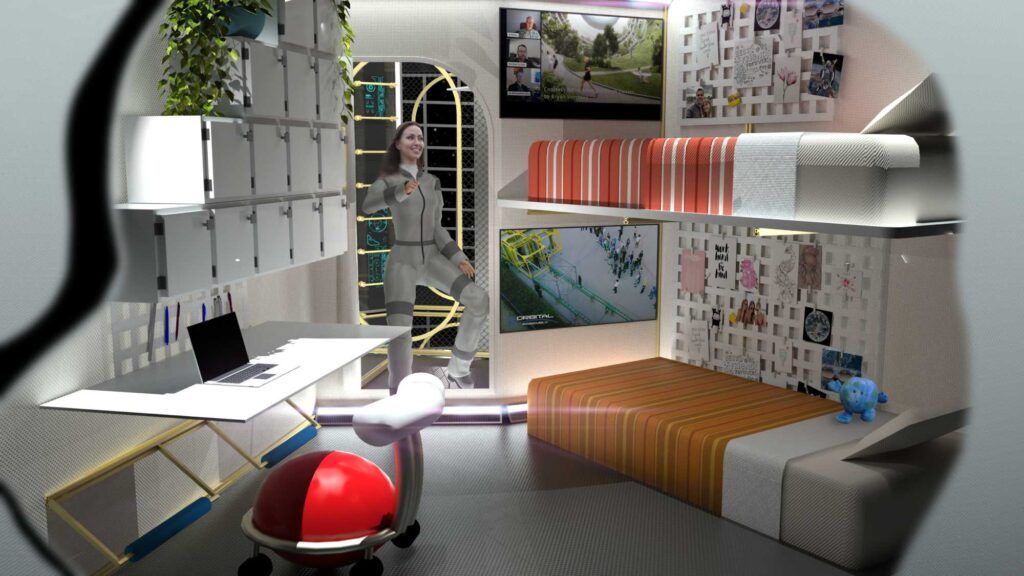 Gravity as a key piece for the space hotel
Both the Pioneer Station and the Voyager Station, in addition to the luxury space hotel, will have offices and research facilities for rent. Orbital Assembly envisions both stations operating like a spinning wheel in orbit around the Earth.
Within the operation of the spatial luxury hotel, gravity is a key element. Tim Alatorre, Chief Operating Officer at Orbital Assembly, states that "to make this possible, we are developing artificial gravity space stations. Gravity in space alleviates many serious medical conditions due to weightlessness, creating an environment that promotes greater accessibility for tourism. Gravity significantly reduces the frequency of human replacement in orbit, which lowers annual operating cost, lowers operational risk, and makes space more enjoyable."
This futuristic concept consists of several modules connected by elevators that form a spinning wheel that orbits around the Earth. Near the center of the station there would be no artificial gravity, but as you descend towards the outside of the station the feeling of gravity will increase.
The "conveniences" of artificial gravity will continue to exist, such as showers, the ability to eat and drink sitting down; but spaces with less gravity will allow you to enjoy space eccentricities even more.
However, space travel continues to come at a gigantic cost, which means that space vacations are within the reach of very few. Given this, Alatorre believes that this barrier will disappear once space tourism gains traction: "The goal has always been to enable a large number of people to live, work, and thrive in space."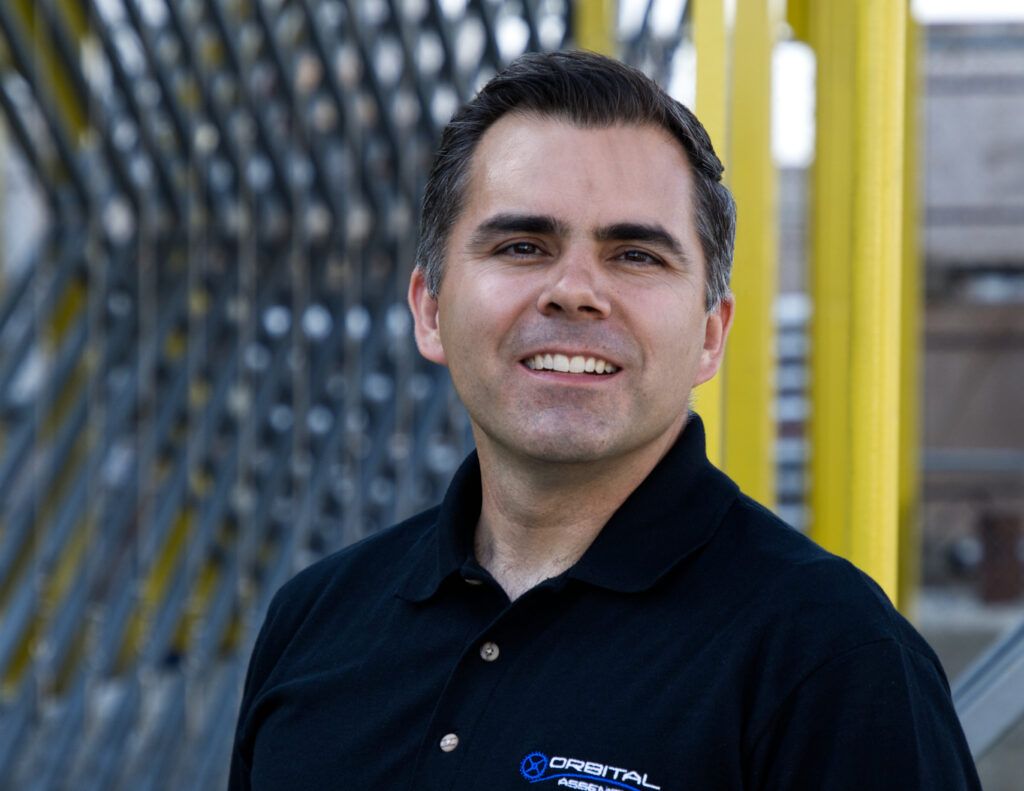 Tim Alatorre at an inspiring event: SUTUS 2022 by Les Roches
Tim Alatorre, Chief Operating Officer of Orbital Assembly, will be present at this new and inspiring edition of SUTUS 2022 by Les Roches -September 28, 29 and 30- to explain in more detail this ambitious space project, which in just over three years will be available for your use.
With this project, space tourism seems to be closer than ever. Alatorre affirms that this barrier will disappear once space tourism gains strength: "These stations are going to give people the opportunity to start experiencing space on a larger scale, more quickly"
Alatorre assures that the tourist areas of the stations "are not going to be like going to a factory or a research center. It should feel like a sci-fi dream."
Tim Alatorre is a co-founder of Orbital Assembly Corporation and brings more than 25 years of experience in business management, engineering, habitat design, and programming to his roles as COO and Chairman of the Board.
Alatorre was previously CEO of Domum, an internationally recognized architecture firm based in California. There, he increased revenue by 240% and built the startup into a multinational organization that oversees more than $320 million in construction projects a year. He has supervised the design and construction of more than 600 structures and more than $1.5 billion in construction projects.
Space Tourism, with projects like this, begins to focus on an optimal future so that in a few years it will be a reality. And we will be able to find out everything in the third edition of SUTUS, whose motto is "Tourism beyond natural borders", which will have a hybrid format: a first face-to-face conference on September 28 at Les Roches Marbella and two more virtual conferences, September 29 and 30.
The sessions of the three days can be followed after registering through the Medina Media Events virtual platform, through which attendees can schedule video meetings with other participants and speakers, in addition to visiting exclusive online demos.
SUTUS 2022 is promoted by Les Roches Marbella and has the support of the Ministry of Tourism of the Andalusian Government, Tourism and Planning of Costa del Sol, Extenda, Acosol and Pisces VI.