SUTUS 2021 will be the first place in Europe to showcase the "Earth 300" superyacht
The futuristic atomic superyacht project "Earth 300", based in Singapore, which will navigate the world on a quest to combat climate change, will be presented for the first time in Europe at SUTUS 2021, the pioneering meeting that combines space and underwater tourism, which will take place from September 22 to 24 at Les Roches Marbella.
The "Earth 300" yacht, is 300 meters long, 46 metres wide and 60 meters high, it will be able to accommodate 425 people, including leading scientists, captains of industry, global humanitarians, environmental activists, students and crew members, plus a small number of wealthy tourists, accommodated in 10 VIP suites with private balconies. They will pay in the region of a million dollars each for a 10-day trip, which will fund serious science and contribute to the economic viability of the enterprise.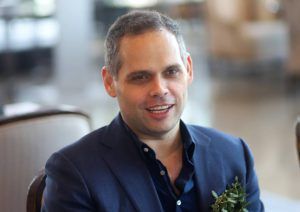 The project is led by the Gibraltar entrepreneur Aaron Olivera, who has established the project's base in Singapore, where it was presented in April and from where he is raising capital to advance the much needed venture, seeking to set sail in 2025.
"Rather than looking towards the heavens, we intend to focus on preserving our planet. We only have one home, we believe it's mandatory to ensure that our planet's environmental problems are dealt with so that we can leave a safe earth for the next generations. We want to launch an era of ecological awakening focusing on planetary conservation by offering inspiration." states Olivera.
Olivera worked closely with the award-winning marine engineer Iván Salas Jefferson, founder of Barcelona-based Iddes Yachts, on the design of Earth 300 who wanted it to be "designed a scientific sculpture for the seas, as a futuristic rescue raft from another world" that combined modern design, emission free technology and cutting edge research facilities, including 22 laboratories located in a 13-story high glass "scientific sphere".
SUTUS ("Space & UnderwaterTourism Universal Summit") is a pioneering global event that has already confirmed the attendance of major space agencies around the world, from NASA to the European Space Agency (ESA) and the Japanese (JAXA), among other major companies linked to the challenge of expanding the frontiers that humans have above our heads and below sea level.
Coinciding with the Autumn Equinox, Les Roches Marbella and Medina Media Events have organized this second edition of SUTUS in hybrid format, after the success of the first edition held in 2019. The 2020 edition was suspended due to the COVID19 pandemic.
SUTUS 2021 is supported by the Andalusian Tourism Council, Costa del Sol Tourism and Planning, Extenda, Triton Submarines and Pisces VI.