This last day of SUTUS by Les Roches Fabien Cousteau, has presented PROTEUS™, the so-called International Ocean Space Station, which will be located near the coast of Curaçao.
It has also been possible to discover titanic underwater projects such as a deep-sea submarine, museums under the sea or a superyacht that fights against climate change.
Spain has been the protagonist of the last day of SUTUS 22 with speakers who are aspiring to be ESA astronauts or with lunar agriculture projects such as the Green Moon Project.
Miguel Belló, Commissioner for the Aerospace PERTE and Carlos García, from the CDTI have provided keys on the creation of AEE.
The last day of SUTUS by Les Roches Marbella has shown that underwater tourism manages large projects to make it a reality in a very short time. Gigantic plans have been presented in relation to this world such as the International Space Station of the Ocean, a deep-sea submarine that offers immersion tourism at a depth of 2,000 meters, museums under the sea or a luxury superyacht that fights against climate change.
This closing day has also made it clear that Spain wants to be a reference in the space race. And the Green Moon Project, which aims to carry out agriculture on the Moon, proves it. We have also been able to meet Jorge Pla and Carmen García Roger, aspiring ESA astronauts, and we have learned about the latest advances in the creation of the Spanish Space Agency with the intervention of Miguel Belló, Commissioner for the Aerospace PERTE; and Carlos García of the CDTI.
Space speaks spanish
Spain wants to be an international reference in the space world. This fact has become very clear on the last day of SUTUS. Miguel Belló, Commissioner for the Aerospace PERTE, spoke about the future creation of the Spanish Space Agency: "The creation of the space agency is a very ambitious plan and Spain is a power in this field. This body has been in demand for a long time. The objective is to create a single body that coordinates and plans Spanish space activities".
Belló has declared that the AEE is going to have many fields of action: "Reduce the carbon footprint, advance in space innovation, promote and encourage the use of drones, help combat climate change, have more space and meteorological data that serve us to move forward", but above all there is a key goal that includes all of Spanish society: "We have made a mistake of not knowing how to convey to the public all the space actions carried out by Spain. With the creation of the AEE we intend, also, to disclose this information to the citizens".
The creation of the Spanish Space Agency, which, as Belló already announced, "will have a budget of 500 million euros", will know its final headquarters "at the end of November" and some "20 candidates aspire to this fact". And it is that for Belló, that Spain did not have a space headquarters is "an atypical case, because Spain is a key player since we have many reference companies at an international level".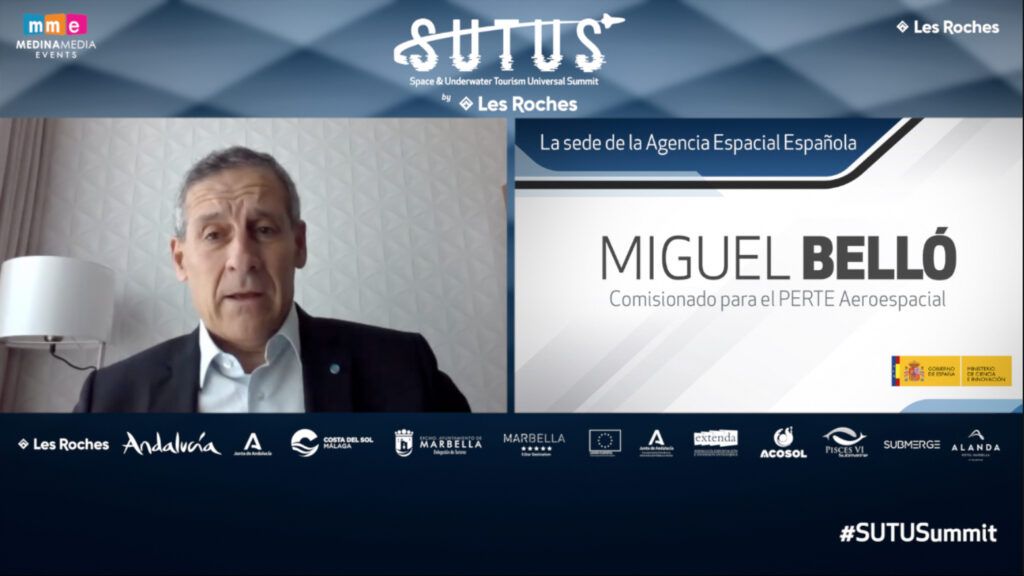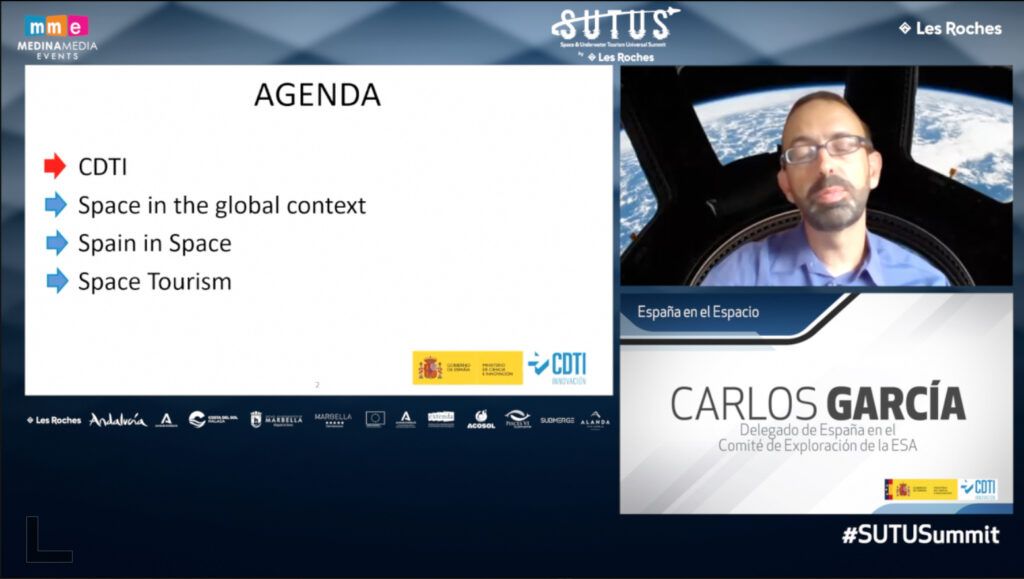 On the other hand, Carlos García, from the CDTI, has reaffirmed what Belló has said about the Spanish space industry: "The Spanish industry ranks 5th in Europe. We have companies that can produce all the elements for the space system. "Spanish spatial actors are present in all spatial domains".
The Spanish industry covers a whole range of technologies, from equipment to the integration of complete satellites with a "global turnover of 965 million euros", so much so that "The ESA asks Spain to support some companies because they are the only ones of Europe that can carry out some projects", assures García.
In reference to space tourism "Spain has many capacities, since the Spanish industry produces relevant elements of space systems and has the capacity to contribute to vehicles with human qualification", assures García. Lastly, he referred to the Spanish Space Agency: "The idea is to help centralize the management of space activities in space. The space industry in Spain has shown that it has a great capacity to carry out very complex and sophisticated projects".
The icing on this last day has been provided by projects such as the Green Moon Project led by José María Ortega – Hernández, Project Manager of this company. A project that focuses its activity on the so-called "space agriculture".
"Space farming is becoming more and more important when talking about human space exploration. Plants, fruits, vegetables together with the production of oxygen and the elimination of carbon dioxide are becoming essential when thinking about these concepts of the future. Green Moon Project is already working on how to make all of this a great reality," says Ortega-Hernández.
And it is that Ortega Hernández is convinced that "space agriculture is good for all humanity. A fundamental tool in our evolution. And we have to return to the Moon to stay". But this is not just an idea, it is a reality. And it is that this project is already "developing the first Spanish lunar fertilizer to plant tomatoes, carrots or lettuce on the Moon," says Ortega-Hernández. This fertilizer is being developed thanks to the Green Moon Project agreement with the Andalusian company Herogra.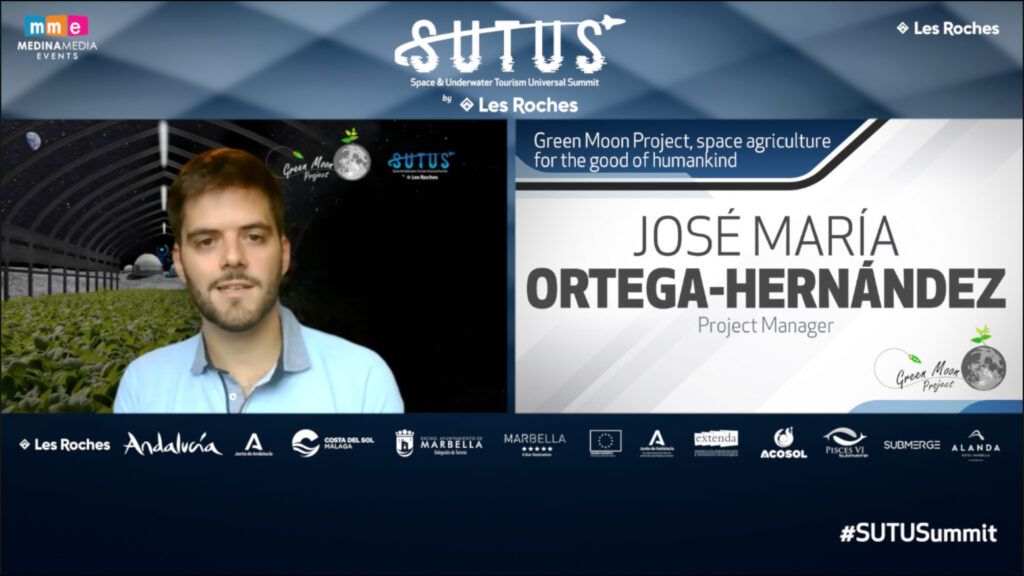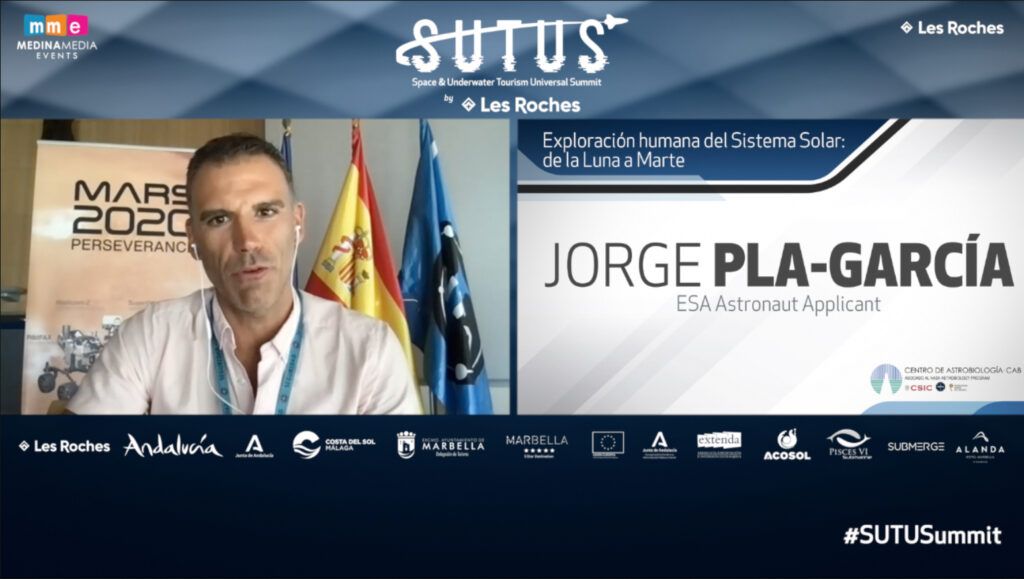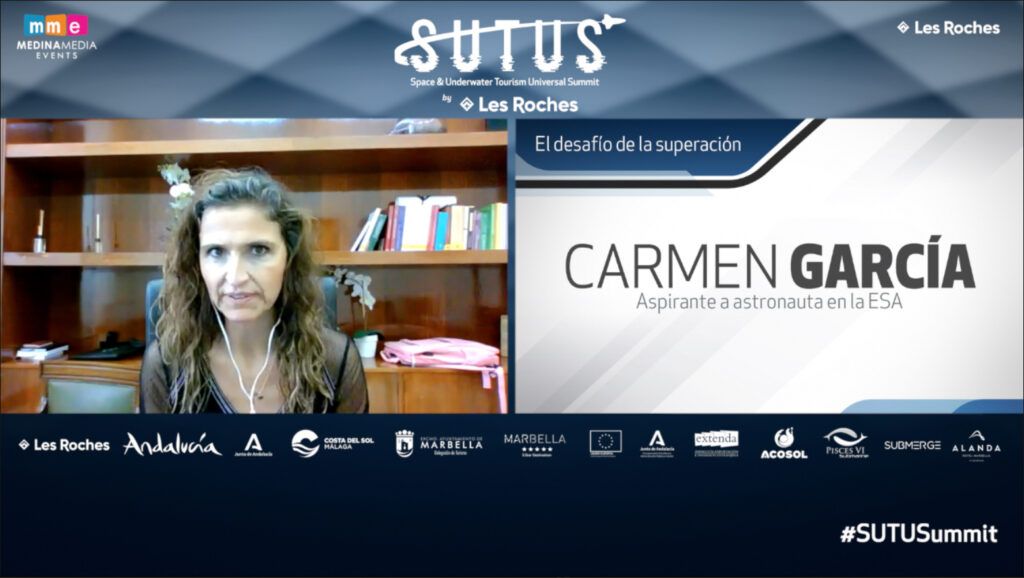 Projects like this exemplify that Spain is doing things very well when it comes to the world beyond our borders. So much so that "Spain is a leader in Extraterrestrial Meteorology". This is what Jorge Pla-García, the Spanish candidate to be an ESA Astronaut, said.
And it is that the ultimate goal is to "set foot on Mars". Meteorological measurements on an extraterrestrial body help a lot in this. Spain has become the first nation in history to have 3 weather stations measuring an extraterrestrial body at the same time. We are leaders in extraterrestrial meteorology", says Pla.
Another great example is Carmen García-Roger who has recounted her dream of being an astronaut and her struggle every day to fulfill it: "Space tourism, the more accessible it is, through groups that are part of space, the faster it will advance. And I hope to continue there and be part of it."
Projects that will change the underwater world
This last day was opened by a true legend of the underwater world, Fabién Cousteau, who presented PROTEUS™, the so-called International Ocean Space Station, which will be located near the coast of Curaçao. A modular complex of underwater life, observatory and state-of-the-art global collaboration platform that will enable both the public and private sectors, including aquanauts, scientists, astronauts, filmmakers, visitors, artists, educators, students to conduct research, develop new applications, create innovative technologies, and share their stories with the world. world.
"PROTEUS™ will drive solutions and innovation by accelerating the time of ocean exploration, advancing scientific discovery, and facilitating the human-ocean connection by engaging global communities. By harnessing storytelling, immersive experiences, adventure and education, PROTEUS™ will bring ocean science to life for global audiences and change the way we interact with the ocean."
Another of the projects that are surprising the world, and that have been presented today at SUTUS, is that of the company PISCES VI, of the adventurer Scott Waters. A deep-sea submarine -there are only six in the world-, which after the eruption of the Volcán de la Palma, has made immersion tourism fashionable in the Canary Islands. This submarine has the capacity to house a crew of four people -one of them a pilot-. In addition, it is capable of submerging up to 2,180 meters deep with a normal duration of 8 hours.
"Pisces VI wants the client to become a deep sea explorer and live a unique experience. One of his star expeditions is a dive to the active underwater volcano that costs about 8,000 euros. The other volcanic experience lasts for five days, which includes a reception at the oceanographic institution with the scientists, helicopter ride over the Tenerife volcano, land tour of the recently erupted La Palma volcano, underwater diving in the active volcano of El Hierro and finally a tourist underwater dive. This expedition is all-inclusive (food, drinks, accommodation, inter-island trips, etc.) and costs 15,000 euros", says Waters.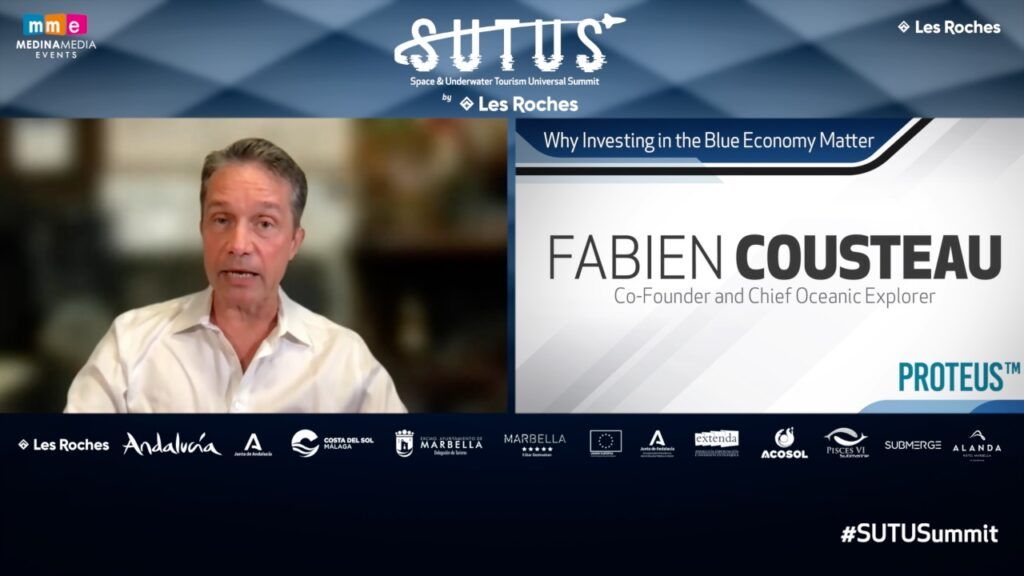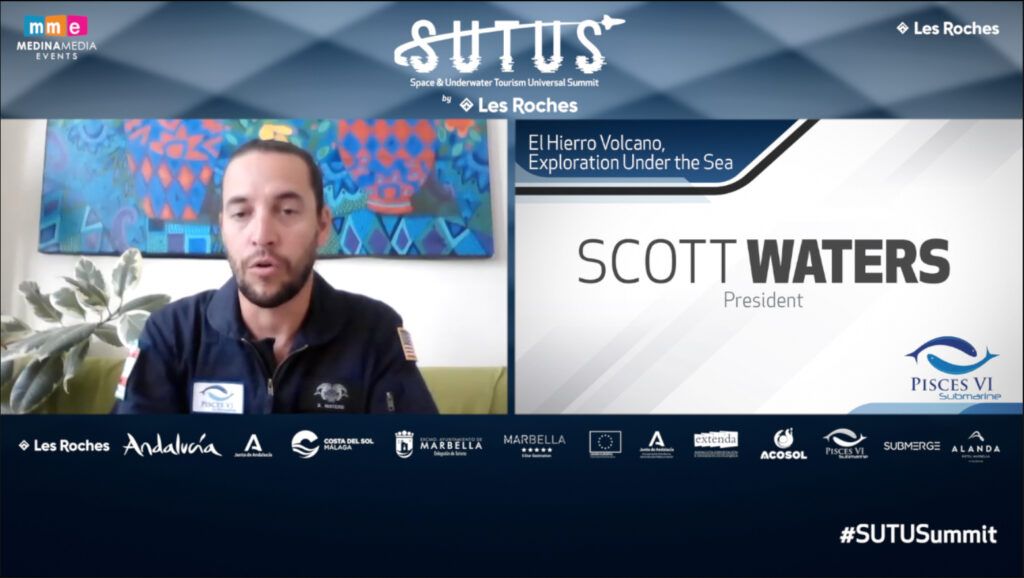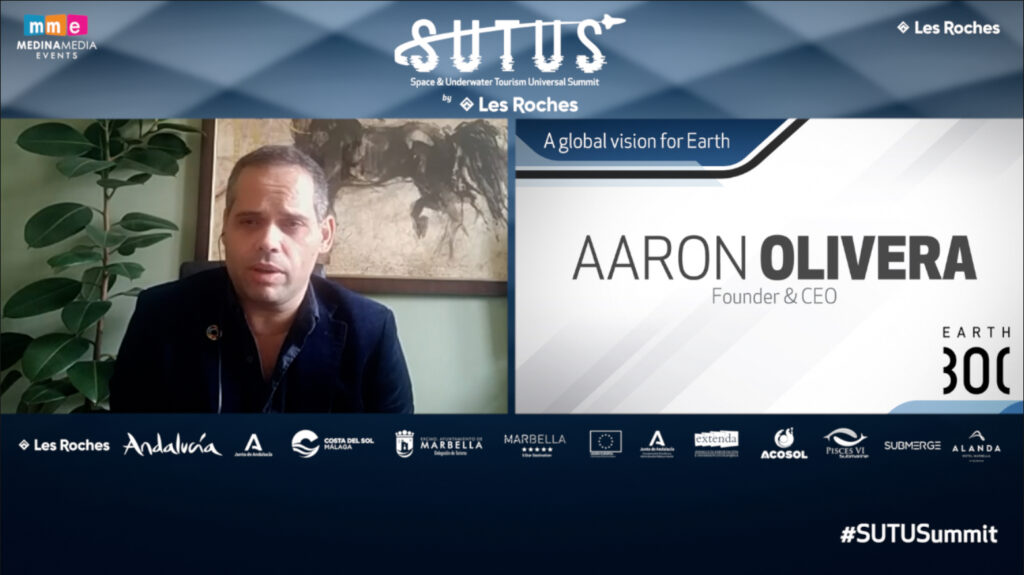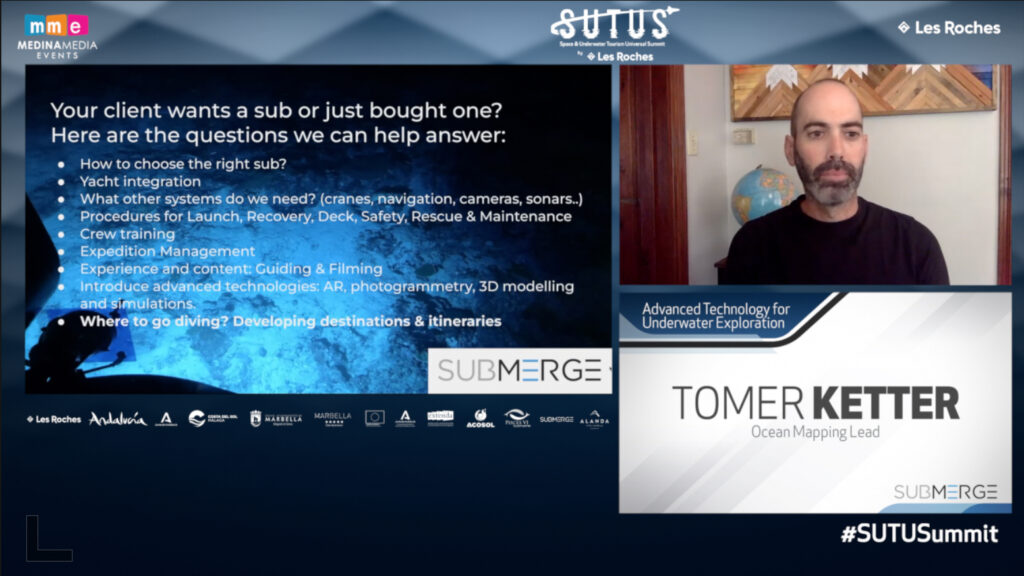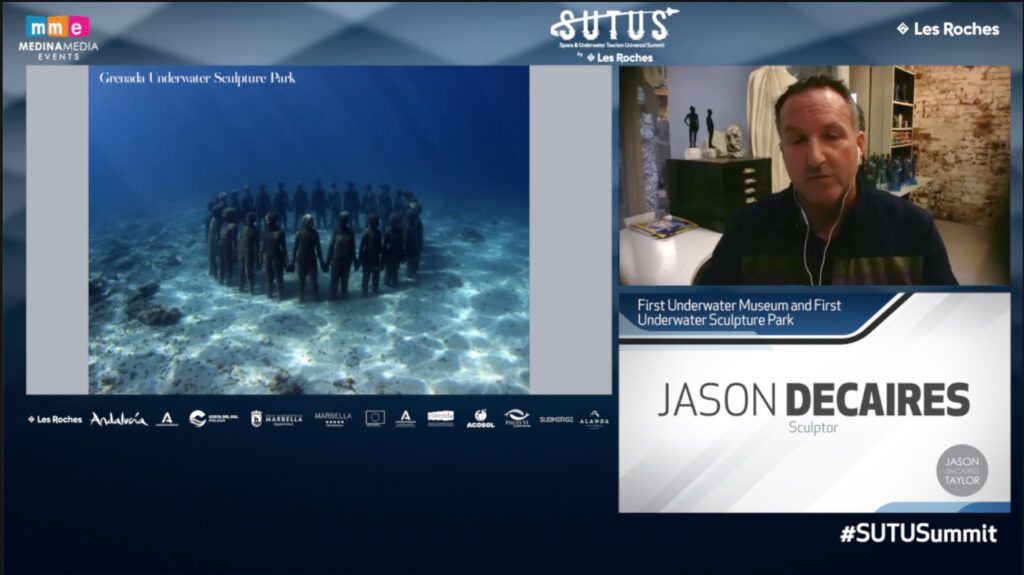 Fascinating is also the futuristic luxury superyacht EARTH 300, whose main mission is to fight against climate change. This super project was also presented today at SUTUS by Les Roches by Aaron Olivera, founder of this project.
The "Earth 300" ship has been developed, declares Olivera "to become a universal symbol of sustainability". And it consists of futuristic design, emission-free technology and cutting-edge research facilities, including 22 laboratories housed in a 13-story-tall glass "scientific sphere": "It is 300 meters long, 46 meters wide and 60 meters high, and can accommodate a community of 425 people, including leading scientists, captains of industry, global humanitarians, environmental activists, students and crew members," says Olivera.
Another of the super underwater projects presented at SUTUS has been that of Jason deCaires, the creator of the first underwater museum in the world and whose work helps to recover coral reefs to preserve marine life. You have talked a lot about the first underwater museum created in Europe, which is specifically located in Lanzarote.
This work of art consists of 300 neutral PH concrete sculptures created by deCaires. A material that over time helps to increase marine biomass and the reproduction of the species of the Canary Island. The first results have not been long in coming. The appearance and increase of species such as barracudas, octopuses, marine sponges and even angel sharks and the strange butterfly ray have increased.
"I like the way that when you designate something as a museum you attribute certain values ​​to it, synonymous with conservation, protection, culture and conservation of objects that are important to us. I think it's really important when we think about the ocean and marine life that it is not only an inexhaustible source of food and nutrition, but it is a fragile and unique place that really needs protection "The underwater museum allows us to perhaps have a different relationship around the world of water", says the artist.
The contribution of the company SubMerge, also presented today at SUTUS by Tomer Ketter, is very important for underwater tourism. They offer dives thanks to the help of 3D technology: "Using fused soner technology, we create a highly detailed 3D model of the seabed to locate the sides and the target of the most exciting dives so that the client saves time and guarantee the best experience", assures Ketter.
Underwater archaeology, a key to new discoveries
Underwater archeology has also been very prominent in this last day of SUTUS by Les Roches. Michele Stefanile, an institution within this world and Researcher and Archaeologist at the University of Naples, has recounted the latest advances and challenges of coastal maritime archaeology.
Stefanile has commented that currently "we have the possibility to explore the ocean from the sky with the help of drones. This is an incredible leap for research, because it's like having our own personal Google Earth. We do the complete drawing, using only 4 drones in 4 days".
For Stefanile, water is a world to discover and she gives a clear example of this: "My first objective is to study the submerged Roman port of Puteoli. It was the first important commercial port of Rome. For centuries, almost all the food that arrived in Rome did so by boat. This port is totally submerged in the Gulf of Naples".
Carlota Pérez-Reverte, underwater archaeologist from the University of Cádiz, has presented the so-called Herakles project at SUTUS: "The Herakles Project, Vapor Route, are national projects that aim to develop an underwater park in the Strait of Gibraltar, an archaeological underwater park for divers to visit a ship that rests inside it".
And for this wonderful project the location is more than clear: "We are converging all these projects in the Bay of Algeciras. It is a unique place, a meeting point between Europe, Africa, Europe and America. From a natural and historical point of view it is very interesting. We want to generate a positive impact at an economic, social and cultural level in Algeciras", assures the underwater archaeologist.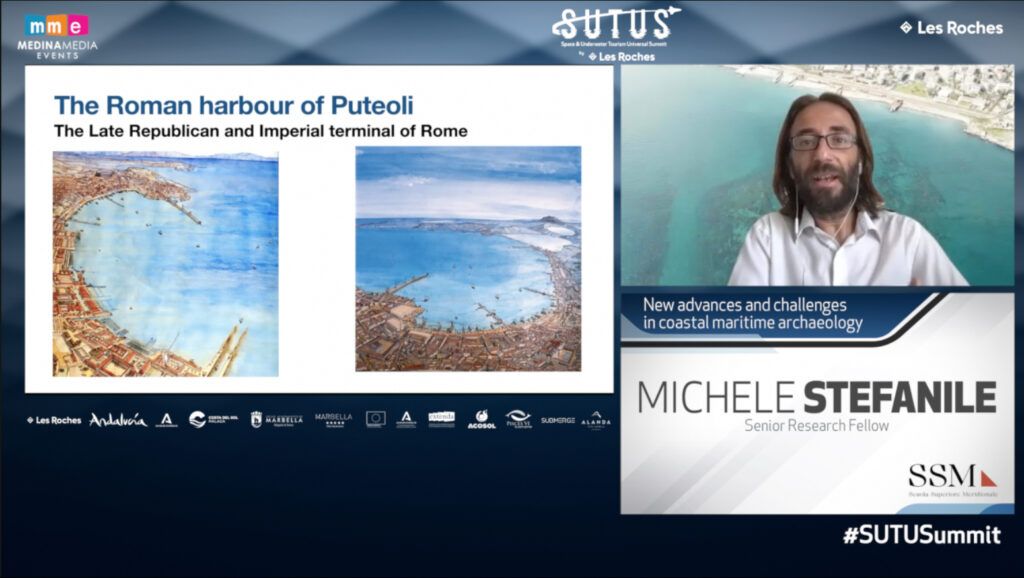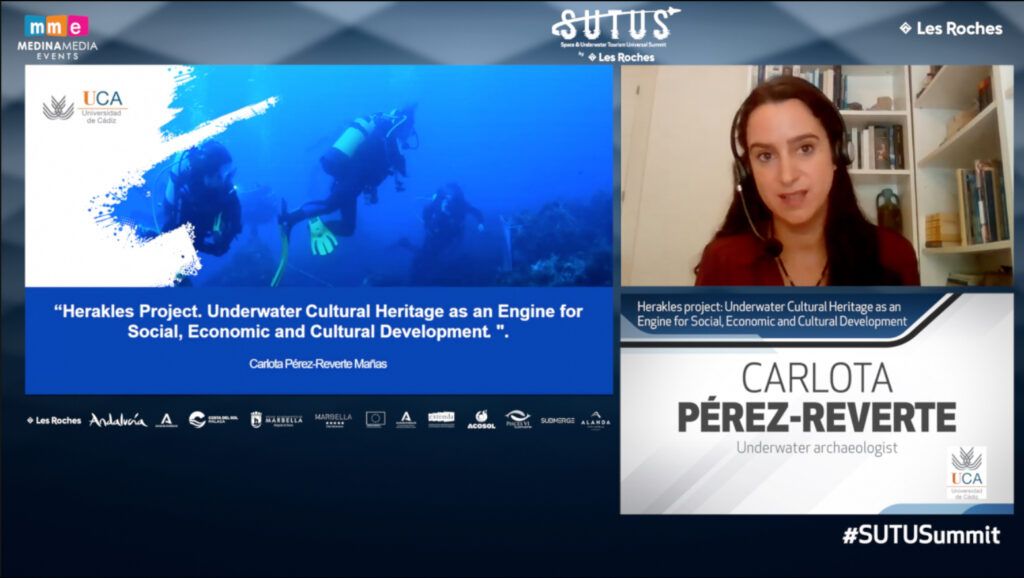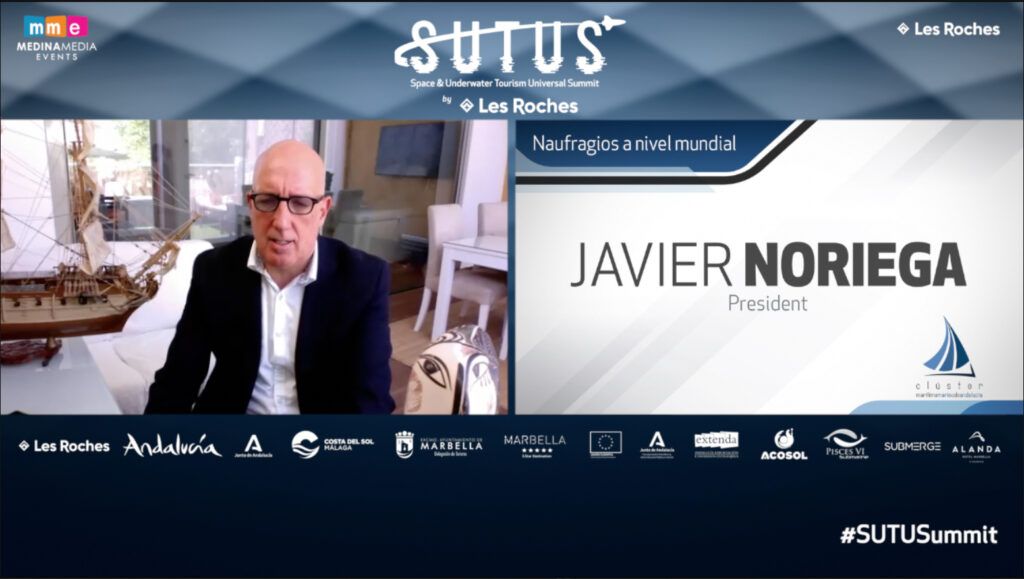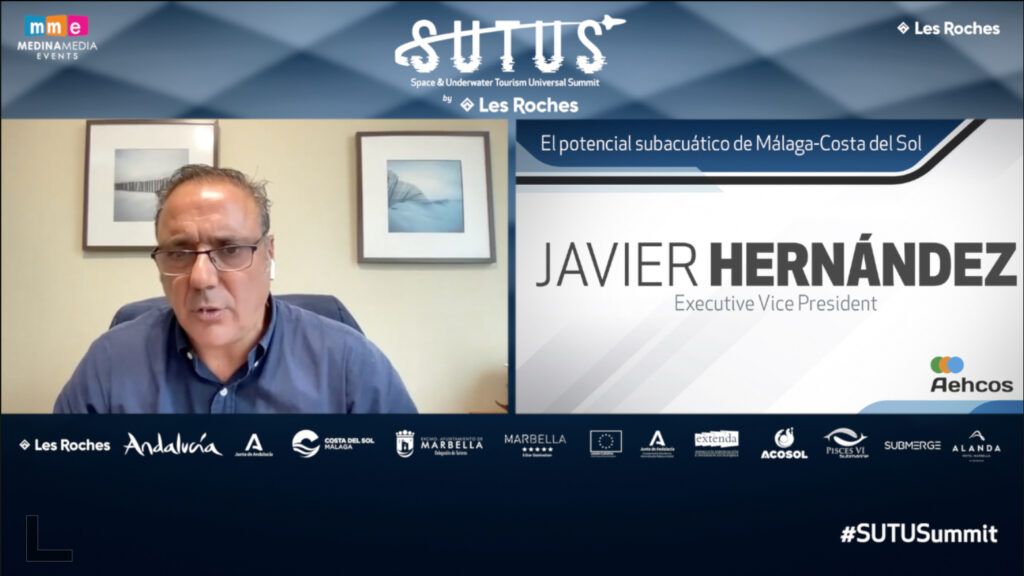 The Andalusian Maritime-Marine Cluster has also been the protagonist thanks to its president, Javier Noriega. They have presented the underwater guide they have prepared, spinning shipwrecks, but always with Cultural Heritage as the protagonist and on the opportunities that underwater Andalusia has: "Andalusia is a crossroads of cultures, a coast that was colonized and founded by Phoenicians, the most privileged in the world. world at a cultural level and all this is in an underwater footprint. We have the opportunity to value all this to the world", says Noriega.
Javier Hernández, the vice president of AEHCOS, has also shown the great potential that the Costa del Sol has in relation to underwater tourism: "In the province of Malaga we are in the surroundings of the Alboran Sea. It is a unique biodiversity zone in the world. It has a complex network of marine currents on the coast of Malaga, not only does it increase salinity but also, due to the currents and the temperature of the water, we are in one of the places with the greatest biodiversity in the world".
The final climax to this last day of SUTUS by Les Roches Marbella was given by Carlos Díez de la Lastra, CEO of Les Roches and Susana Garrido, Director of Digital Learning and Innovation at Les Roches Marbella. Garrido has shared the vision of Les Roches on the use of future technology in luxury tourism. He has also highlighted that "because of accessibility, underwater tourism is more likely to occur before space tourism. We are closer and we know him better".
For his part, Díez de la Lastra has concluded that "Each edition is better and with more quality, better speakers and better projects come. We have more and more solidity in the great world space agencies and they already consider SUTUS as a relevant and necessary milestone within their agenda"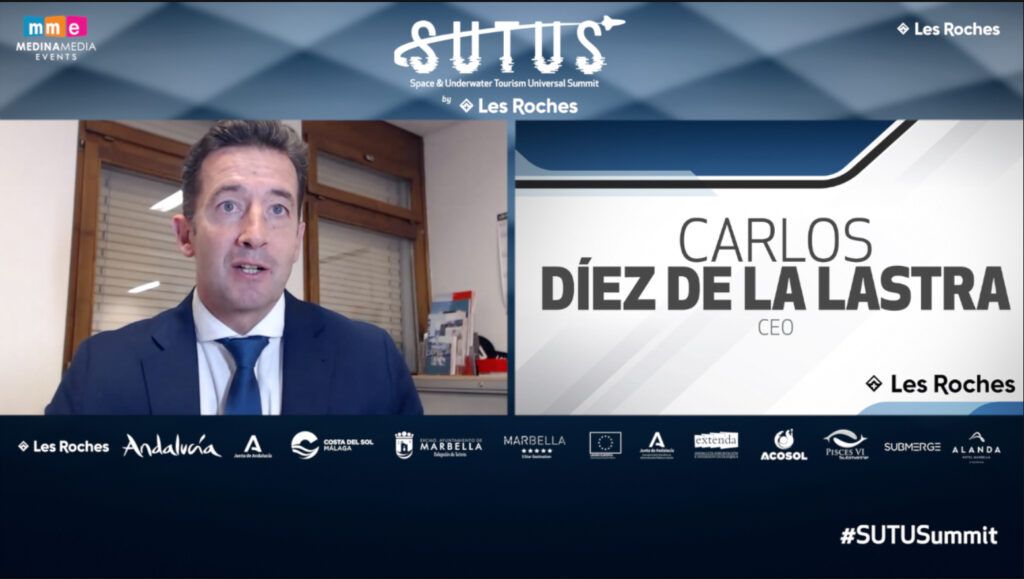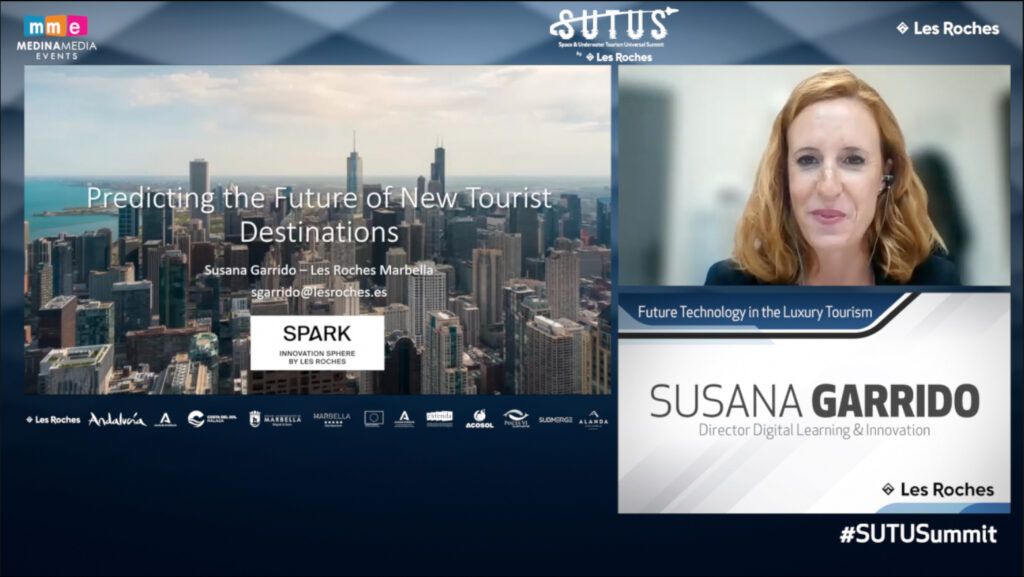 The SUTUS 2022 conferences can continue to be seen through the Medina Media Events platform, prior registration. SUTUS 2022 is promoted by Les Roches and has the support of the Ministry of Tourism of the Andalusian Government, Tourism and Planning of the Costa del Sol, the Marbella City Council, Extenda, Acosol, Pisces VI  and SubMerge.